This piece is about 6 printed pages long. It is copyright © Eugenia Ritz and Peter Golub and Jacket magazine 2008. See our [»»] Copyright notice. The Internet address of this page is http://jacketmagazine.com/36/rus-ritz-trb-golub.shtml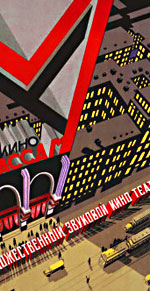 Back to the Russian poetry Contents list
Eugenia Ritz
Tr. Peter Golub


***

This thing can't even
Call itself by its own name.
Was this not what we had
Responding to every ring?
The hidden sun floats in a cradle
Simultaneously from all sides.
Touch any surface, and every point
In the heart of the hand as to
A cramp or illness
Echoes.
Now in December buds open
And even the grass is green.
Was it not this we were divined
From the beginning.
From the first to the last breath
Premature winter, median autumn
In the metro is written: "No Exit"
And in the underground passage
 — pomegranates, mandarins, persimmons.

***

Because the current grey, opaque January
Is pronounced with a colloquial "a"
It becomes, to some extent, local.
So it has a different inventory,
But like the rest — put together from old scrap.
They do not build from glass and cement anymore,
That is they do, and more than ever,
But it is outside the frame of the eye.
Inside the frame — representing all four age groups —
Only wet creatures.
Have you cached something inside yourself?
It is not going to fly. Unless one year counts for a hundred.
The last, which is also the first, season
Catches us in half decent postures,
In blind and unappealing cloths,
Buttoned by both centuries from top to bottom.
Sometimes it is white, now grey, but never motley.
There is nothing you can beg from it, even if
You bend over twice, when once would be enough.

***

The islands, floating underground,
Are they not drowning in shouts of down with!
Which sound like long live!
A trolley crawls
Taking someone home.
Islands, breathing red
From their volcanoes, like from angina throats.
Water flows down like fat
From the local, low and lifeless, hills.
And the planet hunched, and all the cities
In allergic smoke and asthmatic bluing.
The underground islands — not more than water
Or further than everywhere.
You watch as landscape falls on landscape,
But only one shines in your eye;
Something unheard squeaks in the coulisse,
When at the time the sky turns out incomprehensibly, below.
Only the island denizens, who are not small,
Many might be no smaller than an ant,
Keep their inside corners warm by breathing
Hidden breath.

***

Pieces of words flutter here and there,
A tiny cake of soap.
Like rags and ravens, it hangs from the shrubs
 — The unavailing empyrean.
The train runs through white air
And settles a red butterfly inside the breast.
A look down at the stars
Like those beneath the skin
 — A lot of lonely water.

***

And tokens jingle in the pocket.
A small airy muzhik
Stands like a guard,
By the body on the border.
His lips pursed in a
Shhhh.
The air, in circles, parts.
I do not see it.
In fact I see no thing,
For it is very evening,
And only streetlights
Can make out the night
Without straining too much
With their gold spectacles.
The snow
And person
Go underground to cross the street.
A corridor of air stretches along;
It seems like only rosin smells like this.
February stretches between ribs.
The damp soft heat
Of the McDonald's by the metro,
Where fingers melt against the glass
And light and beauty cover top to bottom.
When for the final time I am beseeched,
Before descending down the stairs beneath the ice,
I'll peak into the golden bright McDonald's,
That's filled with hidden lamps.
Quicker the sight will light and warm,
And probably not quite slip through the hands.


***

Well, what would change if you had learned
English instead of German?
The seagulls just as always
Fly over the local dumps.
You have no talent for it anyhow
And so, instead of entering the Foreign Language
Institute, it would be better
To discontinue the whole lot;
And all asperity, all clumps
Will be secreted now in effulgent
Mean sheets inside yourself,
Clogging in one taut knot.
You think, you'd have emerged a style
Like those who entered there?
No walk, nor breadth of frame
Has ever changed from such emersion.
Better to lie
And huddle knees
Like caustic muteness, to the chest.


Old Coat

When we were out buying my coat
You anxiously chain smoked
We must have walked the tight
Bazar a hundred times
Back then people wore thin overcoats
"But you know that I can't"
Or fake fur coats
That ripen red in every stall
There was a motley group of gypsies
The cold and flimflam lottery
Your hands, your palms of fragile glass
Threaten to break if only touched
It is not clear what we were looking for
In this monotony of imports
...Today memory is unbearable on the body...
Is deluding from the button cracks

***

Here again, they were selling bed sheets
Yellow stars on a blue background.
Too bad they don't know prison slang
Wandering hucketers, autumnal remains.
The other day a neighbor had her fortune read:
"Death sits in your hair," the other said.
"Let me," she said, "Scare it away."
And you can't get away from her;
She got away with two gold earrings
A wedding ring
An almost new bedspread.
Of course she vanished
After that
The neighbor's head went grey.
And death just sat as it has always done,
Plaited a nest atop her head as in a tree,
Lined it with bits of hair and wool.
And when her children hatch
She'll feed them midge and worms.

God, who doesn't gad down there by the perron;
We ought to get an intercom, a metal lock.


***

In the coatroom
The wayward child
Steals change
From pockets
No less
Than
Twice a day.
It's casual,
The games for money.
The needles of the questions
No better than another torture:
Once you
Pick up some speed
Where will you sit
(Or not)
And speaking
God knows what...
The cell
Is unremarkable and narrow
Where he, the clever rascal,
Rummages through threadbare clothes.
There's not much profit here,
The unerasured coin
Of language.
The feast
Beatitude
Holy and mute
And suddenly
The hasty abdicated word
A shiny coin at the high heel.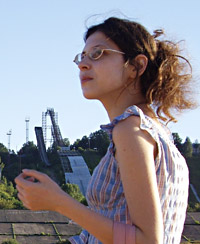 Eugenia Ritz is a poet. She graduated from Nizhny Novgorod State Pedagogical University (NNSPU) with a PhD in philosophy. She has published two books of poetry: Return to Ease, and City Large. City Pained. She lives in Nizhny Novgorod.
Copyright Notice:

Please respect the fact that all material in Jacket magazine is copyright © Jacket magazine and the individual authors and copyright owners 1997–2010; it is made available here without charge for personal use only, and it may not be stored, displayed, published, reproduced, or used for any other purpose.