This piece is about 8 printed pages long. It is copyright © Anna Russ and Matvei Yankelevich and Jacket magazine 2008. See our [»»] Copyright notice. The Internet address of this page is http://jacketmagazine.com/36/rus-russ-trb-yankelevich.shtml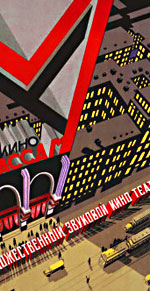 Back to the Russian poetry Contents list
Anna Russ
Tr. Matvei Yankelevich


The Neighbors

When the party's coming to a close,
When the dishes have been washed,
Where is the driver of that bus,
Which could take me far away from here?

Exhausted after his long day,
He comes home, his shift behind him,
Takes off his boots and glances at the paper.
He hangs a fresh calendar up on the wall,
Sits down and forages for food across the table.
He eats his fill, then crawls — a lobster — into bed
And he's out like a light, leaving his wife,
Unsatisfied, as always.

... His wife tosses and turns half an hour,
Before deciding to have a cry, but first
Goes out to wash the make-up from her eyes,
And takes a look at the children on her way.
They were fast asleep, and she kept going.
God knows, how she loved her Husband!
The whole long day she awaited his return,
Caressing his shirts and socks with the iron.
And as she was preparing dinner,
Dicing beets and cabbages for borsch,
The neighbor screwed her like a bitch.
She loved her husband. But she had an itch.
He knew it, too, but all the same was silent,
For he was secretly enamored of the neighbor.
Thus, in them were joined the source of all beginnings ...

... When the conversation dwindles down
When the party's nearly over,
When the dishes are washed,
He sleeps, and in his sleep loves no one,
The driver of that bus of mine,
Which could take me far away from here.

***

He drank gin, chasing it with chocolate,
And slowly sucked upon a slice of lemon.
He bragged of neither job, nor income,
He offered nothing more than heart and hand.
And she, savoring her Georgian white,
Snacked on a piece of cheese,
Was also thinking: "Well, why not,
I'll marry him and bear him a son."

The next morning, matches breaking in his hand,
He squashed his cig in the ashtray mush
And tactfully pronounced: "I understand."
And then asked: "So, now what?"
He smelled of alcohol and onion
And not at all of chocolate and gin.
And she did not take his hand.
And she did not bear him a son.


Farewell

My beloved recently
Got real drunk, bombed, shit-faced,
Got in a fight,
Then got run over by a car, and in a word
Died, suddenly and before his time.

For two weeks before that
He'd been already rather unfocussed.
One moment he was re-reading Chonkin,
And the next downed shot after shot.
In short, he was on a bender.
But now he will never ever
Drown his emotions,
Or ask for me to make dinner.
He'll never grow his hair long,
Or pass the washcloth.

And at night I dream of him, sitting in his rocking chair,
And saying, look what I've come up with based on a marching tune:

"I got run over
by a Jeep Landrover,

And a Zhiguli
ran over me,

I'm just a wee lad
Off to the promised land.

I'm just wee lad
But don't you be sad!"

And I am stroking his cheek,
Like a teacher from an old Soviet movie,
And I say, you were really a charming boy,
And he says, and you — have you missed me?
And what should I tell him?
That in the end
It's even better this way?
That now I know where to bring flowers?
That now I can tell our daughter whatever I want about him?

And I answer:
It is all so sad, really.
But it was in you from the beginning.
And I give him a goodbye kiss
Between his nose and his chin,
Strong and thorough.
And finally
I wake up completely,
Both my auricles
Pounding,
Arduously, like playing spoons.


The Evening

Forward march to the Museum of Bora-TYNS!-TYNS!-ky
This evening there will be the Day of Pushkin
Forward march to the Museum of Boratyn-SKY!
Today they will offer you a bit of Pushk-inn
And today I was on the Internet,
Not on any of these por-no,no! sites,
There I was reading about Gand-LEVE!-LEVE!-sky,
And about Soko-LOVE!-LOVE!-sky,
And even about Levi-TANZE!-TANZE!-sky
And now I'm going to Bora -TYNS!-TYNS!-ky
This evening there will be the Day of PUSH!-keen.
In the Museum of Bore-a-teen-sky.
The Day of Winnie-the-Pooshkin.

***

Philosophizing on faith, or on capital punishment,
On the era to come or the heavenly sphere,
Thinking about reincarnation or immortality —
These aren't first on the list when your husband leaves.

If only there were an extra-sensitive film
That could capture a couple of shots from back then:
Here the beloved is sneaking a sandwich,
Here's his first time, here — a new jacket,
Here — he squints with pleasure at Benson's playing,
Here he's got delight upon his lips, making a ring.
In this one he's embracing truth in the bushes.
It seems so easy — just go back, and snap away.
But then a bonbon with the finest filling
Goes to your sworn enemy by the luck of the draw,
You get the wrapper, now empty but for its shape,
And stuff it in your pocket without a word.
Jump around — he was no go-getter, no romantic,
Nor an expert in midnight drilling —

In fact, who gives a shit.
The trouble is that, having lost your vigilance,
Having put a thing carelessly into a side pocket,
You literally offer all the same — and he is stolen,
Certainly inseparably your own.
And there's no point in searching for the initial cause.
Just bring me back my lover man.


Verses for Children

1. The Shells

Petrov stares at the blackboard
(The Teacher is a bore!)
And sees behind the blackboard
The shells on sandy shore,

The lively jellyfishes,
The corals and sea weeds,
White sharks, so cruel and vicious,
Blue whales, and pearly beads,

The Sea sounds like a carol,
It flickers, flows and streams,
Then — clash! — the teacher's ferule
Distracts Petrov from dreams.

The teacher looks directly
At him — he's also bored
Then — clash! - and soon again he
Keeps writing on the board:

"And if she sells sea shells on the seashore, then the shells, she sells... "

The boredom touches temples,
The teacher's cap and robe,
His ferule, fingers, ankles,
His books, and faded globe,
The letters on the blackboard
The chalk in weary hand...

And just behind the blackboard
Inside a bore so dusty,
So cozy, musty, rusty,
So shining, blue, and gusty,

The shells lie on the sand.


2. The Pets

Some like little fishes, canaries, and cats,
Some breed little ticks, or cockroaches, or rats,
All kinds of these pets call for love and affection
And some of them can cause as well an infection.

There live undernails of Tanyusha from Russia
Microbe Nikolay and bacillus Natasha.

To make their environment proper enough,
To give them digestible nourishing stuff
She puts both her hands into butter and jam,
She scratches her cheese and she scrapes her lean ham,

She tries to drown hands into soup or some custard,
To smear them with syrup, the egg yolk and mustard,
To pour them with juice, and immerse into kasha,
She's eager to please Nikolay and Natasha.

She cherishes, and coughs, she caresses, and sneezes
And suffers from different children's diseases,
Her pets always comfort and nurse their sick dear,
It makes their friendship more frank and sincere.

And if you decide to make friends with the germ,
Why don't you give them a place on your derm.
Their life is not easy, you must understand,
So might there be someone to lend them a hand!


3. A Cloud

My parents have their mobile phones,
Each has his own e-mail,
And I have just a pair of horns
And just a tiny tail.

My dad wears an expensive watch,
My mom wears ear rings.
And as for me — I'll never fuss
About those stupid things.

I need no shops, white shirts and shares,
No shelves for shoes, no shoes,
No shower gels, no aftershaves,
No 2 in 1 shampoos,

No traffic jams, no cash, no crowd,
No collar, case and tie —
All I need is a slice of cloud
And mouthful of the sky.


4. Real Toys

I don't need that Mrs. Barbie
With her car, her house, her husband,
And I need no Mr. Batman,
Or else, Mr. Terminator.
Give me just a sock — unpaired,
Or a glove — worn-out and shabby,
I will stuff them; I will love them,
I will dress them up — I'll draw them eyes,
And make them ears and noses,
Hair and silken bows to hold it.
Real Toys are never sold at
Supermarkets, stores and stations,
They cannot be made of rubber,
Silicone or colored plastic,
Real Toys are everlasting.
Fuzzy. Foolish. Very Warm.


Trans. Matvei Yankelevich
Translation(s) originally commissioned by CEC Artslink on the occasion of the author's visit to the US as a participant in their Open World program.
Anna Russ (b. 1981, Kazan) attended the Gorky Literature Institute. She was awarded the Debut Prize in 2002 (for her children's poem), and in 2006 her book Marezh was published. Recently she has gained recognition for her success at slam poetry contests. Her poetry was anthologized in Contemporary Russian Poetry (Dalkey Archive 2008). She spends her time between Kazan and Moscow.
Copyright Notice:

Please respect the fact that all material in Jacket magazine is copyright © Jacket magazine and the individual authors and copyright owners 1997–2010; it is made available here without charge for personal use only, and it may not be stored, displayed, published, reproduced, or used for any other purpose.