This piece is about 6 printed pages long. It is copyright © Gleb Shulpyakov and Chris Mattison and Jacket magazine 2008. See our [»»] Copyright notice. The Internet address of this page is http://jacketmagazine.com/36/rus-shulpyakov-trb-mattison.shtml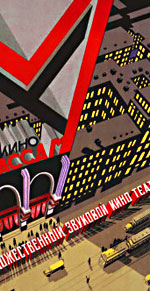 Back to the Russian poetry Contents list
Gleb Shulpyakov
Tr. Chris Mattison



***

Luxembourg Garden and Victory Park,
elms on Margarita island —
shafts of sunlight remain in these woods,
sidelights red
at dusk.

Illumination from the heavens
in the midst of this earthly way:
pricked by air and tangled leaves,
and everything once again is
anew.

Ballerinas in the garden! a Paris evening,
the sky covered in a layer of smoke.
A familiar figure heads this way,
smiles and walks
by.


Djemaa el-Fna

"The satellite's in the dead zone ...
              ......in the dead zone ..."

Marrakech!
Rose-colored gums of the old city.
White satellite dishes
vainly scanning the heavens —
revealing neither rain nor films.
The black Tele-Kaaba cubes dim.
And toward evening the city moves to the square.

Heads. Heads.
Heads. Heads. Heads.
A hoarse voice from a turret groans.
Everyone to prayer! But no one hears the voice.
Hundreds of hands beat drums.
Hundreds of lips play flutes
Hundreds of voices shout
and the square funnels me in.

"What is it you would like, messieurs?"
I hear in an excited whisper.
"Qu'est-ce que vous voulez?" —

I wave him away:
"I don't want to see the Saadian tombs."
"I don't want to hear the thousand and one nights."
"I don't want to taste chameleon liver."
"In neither this future nor past do I want to trade anything."

"Then what is it you would like, messieurs?" —
the character in the striped jellaba won't give up.

"Can you return me to myself?" — I ask.
"Nothing could be simpler, messieurs!"
He submissively lowers his eyelids —
revealing a pattern sketched in purple.
"We'll go to the city quarter of doubles.
Place your hands on top of your
double's head — like this."
He shows me his filthy palms formed
into a small "boat."
"Is that it?" — "That's it." He smiles,
revealing curved, white incisors.
"Com bien? — How much?" — "Allah
will let your heart know the cost."

The square as wide as life
flows into the narrow fissures of streets.
The city's stomach growls and trembles.
In the dark, at the counters
the world's treasure. But where
is that striped balakhon?
I can barely keep up with my guide in the throng.

"This way!"
Beneath rugs, someone in a woolen hood
stares at a blank television screen —
near the steps are set tea, a small flat cake.
He nudges me: "It is time, my friend."
Frozen in fear, folding hands, and —
............................................
"I am a purveyor of mint sitting in a raspberry fez!"
"I am a drover of mules in worn out boots!"
"I am a mule carrying gas tanks on my back!"
"I am a tinsmith, my caldrons hold the world's finest couscous!"
"I am couscous, you could devour me with just your lips!"
"I am a weaver, my jellabas are lighter than air!"
"I am air, the scent of bread and damp clay!"

Now when they leave me one amidst the medina, I'm terrified to realize that I am them: purveyors, drovers, urged on and destitute, artisans and tramps; that I see the world through their black eyes; inhaling kief smoke from their rotting mouths; I taste the mint tea with their rough lips; I tear at sheep skin with their calloused fingers; I take on the dull gait of an old mule; the inflamed sores on a stray cat. I wanted to find myself but became them! all of them! Rooted there, unable to peel myself from the pavement ...
....................................
Then the TV screens blaze, flashing on as
the satellite moves out of the dead zone!
and the city turns to its televisions.
I froze in the middle of the bazaar
and do not remember: who am I? what am I doing?
"Messieurs!" — I hear a stern voice say above me.
A patrol officer is speaking.

"Your papers, messieurs!"
"It seems I do not exist ..."
"To whom does this seem, messieurs?"

***
someone onscreen removes an overcoat,
bandages from the face, beneath which
nothing is visible to the eye, beyond reason,
becoming part of the window's landscape —
I am similar to him, I am the same,
my million-sided void floods
that which cannot bear it
within me — like water — filling these
pores and fissures in the dark,
their dry forest
shifting beneath the skin — becoming me


***
when no more reasons remain,
I go outside, into the snowdrifts of the evening tenements
where shop windows swim like nude fish
and milk sleeps in triangular cartons, —
in the beginning began, where black soil rings,
I'll start with the greeks and work back to the varangians,
while a woman in a white robe plays reveille
on a piece of paper gray as the sky

***
a blind, sullen beetle lives inside;
chirping in an empty box of matches,
rough surfaces and layers of chitin
— with ends jutting out —
resting comfortably in me and warm he's
been reading a book in Braille
in the pocket of an old coat
which was put away some time ago
***
      . . . . . . . . . the new era

scrapes at windows with a bare branch
breaks the streetlights
in puddles
unwinds filaments
blows bubbles

a wooden missile
drops to the bottom —
newsprint yellows
a black and white movie


Prado

Butcher stalls of Rubens.
Goya's beaten birds, feathers daubed in mud.
Bosch shrimp, Brueghel entrails —
seething, boiling in enormous vats.
El Greco's dried fish.
Dwarves scurry between the counters, buffoons.
"Pedro Ivanoviz Potemki" in a fur hat.
Shouts, the clatter of horses, clanging metal —
everything merging in the din of a single bazaar.
Rafael's rows of linen are the only calm —
wind playing with the sky-blue lengths.
And then another thump, gnashing, curses.
A severed ear bleeds out on the floor.
"Let's get it raised up!" — someone shouts in a hoarse voice.
A cross's silhouette slowly grows in the sky.
                                        Everything stops.
                                        Silence.
The sound of a flame crackling in a cave
echoes over this infinite moment of silence.
The splashing of oars fording a river.
Hieronymous's incunabula rustling
and the rumble of spinning wheels.

. . . . . On the next day we woke early
and kissed in bed, not opening our eyes,
like bats. Two drawings,
two sketches on the canvas of Madrid.

A painting no one
will ever see.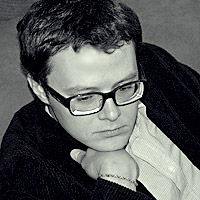 Gleb Shulpyakov (b. 1971 Moscow) graduated with a degree in journalism from Moscow State University. He is a poet, translator, playwright, editor, and critic and has published in many journals including Znamya, Novy Mir, and Arion. He has translated a collection of poetry and essays by W.H. Auden. He was a contributing editor for Novaya Unost, and was awarded the Triumph Prize (1999). He is the author of two books of poetry, including Acorn (2007), and the play Puskkin in America, which won the Dramatis Personae Prize.
Copyright Notice:

Please respect the fact that all material in Jacket magazine is copyright © Jacket magazine and the individual authors and copyright owners 1997–2010; it is made available here without charge for personal use only, and it may not be stored, displayed, published, reproduced, or used for any other purpose.