This piece is about 5 printed pages long. It is copyright © Maria Stepanova and Tatyana Golub and Rebecca Gould and Jacket magazine 2008. See our [»»] Copyright notice. The Internet address of this page is http://jacketmagazine.com/36/rus-stepanova-trb-golub-gould.shtml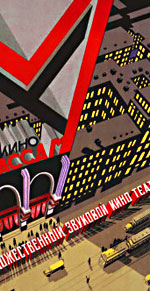 Back to the Russian poetry Contents list
Maria Stepanova
Tr. Tatyana Golub and Rebecca Gould



A Few Positions


1.
              I am writing these lines,  while lying.
              In warm plaid. On a dark couch.
              Négligé and with face cream on my mug.
I am writing these lines looking
Not outside, but into the courtyard of a notebook,
Not — inside, not spruced up and on parade,
Dressed  up, alive,
Brain divisions marched
On deserted pavements,
But — here, into my own bridge of the nose,
Where one-voice passes
As invisible axis, breathe in breathe out.
From head to heel,
Vertebrae, eardrums, locks,
All places, where I waged my tail,
All corners, where I played hide and seek,
Achieving what I wanted,
Aunt youth with a body chick,
You try to be alone:
Nose in the pillow, eyes into lids,
Legs spread, hands on hips.
Teeth like flock in the palate's grotto.
White forehead. And the labia.
Traces. Flag stations. Trumpets.
I am the body rolled into a fist.
The body sleeping in its twilight gulag.


2.

              I am narrating about any orphanhood,
              Rancor, unconsciousness, feeble-mindedness.
About sweetness and weakness, vanity
And ardor, about the gossamer permafrost.
But what if Roland's horn was heard,
To echo on valleys, and the roofs
Reciprocal and congeneric oh!
To whom to give the final breath?
... While we are sleeping, like brother and brother, in a circle,
Like sarcophagus, where they sleep hand in hand,
Sleep under the hill inside the cows and bushes,
Sleep with Etruscan smiles across their lips —
Love so small, seems to be Maltese,
It also sleeps, stretched out like a line
A little longer than a low-heeled shoe,
Lying face down during midnight hour.
When we wake up, when evidence appears
When we stand up to  compose the two faced Janus
On experimental polygon,
And ahead — the final drive
Love spreads like a piazza,
War and famine.
And during the fools aria a radio
Will turn up its voice.


3.
        I  am alone. No one rouses me
Not for an inch, not even a bit more,
Although the wind embraces me with willows
Jamming me inside a crammed bast basket,
Although, today I've limped away my share
Inside the gym syncretic nature
Where the slacked lime and farina prototypes
Work on the future bedrock  

Where the sea filters the spume
And rust grows poison
While lizards listen to Chopin
As if he were their trainer and obey every sound.

The mass of leaves grows comprehension
To the sound of its own revolutionary steps
An added price according to Karl Marx
And Darwin's unolympic experience.

With amphitheatrical scale
Development, and the branching out of creation.
I was there — a hidden fig,
Almost in secret, like a stolen cookie.

Under the lamp, that teaches to relax,
Enter the zenith, lie down and multiply
According to the Five Year Plan in the poses of Pietro Arentino
Work by the plan and beautify the paintings.

Then, night — a late night pharmacy —
Amidst the glass, fire, and field nurses
By catalog you get easy access to the variations
Unpeopled, peopled, double edged.

Then Nature, just in case
Holds alternative species to you face:
The cliff and cloak, the virgin by the cloud
The birds of tempest and birds of spite

And Pushkin falls into light blue;
And he who lay in Dagestan valleys;
And she clouds the hills in wadding  
So as to stop her crying over them,

She adopted the facade of a garden
And did not pride herself in just one fate:
To raise her spear, and gallop after him —
Toward natures muscled-windmill.


Tr. Tatyana Golub
***

Returning from the vegetable market
I collapse under the weight of the bag.
I am my own book, my own picture,
Blown up, like a balloon.

Recline in a sleeve of outstretched snow
A lollipop yellow
Reflecting changes of a sky
To the sky with my small face.



Tr. Tatyana Golub and Rebecca Gould
***

Two earrings, guarded by the ears
Maps of two half-spheres
Florid and lacy
A red rose in every center.
A belly button in the bikini's window,
Surrounded by pieces of the sea.

Glue them together and you'll get a globe
Above which you die gladly.

But still living, I enter the bus
In every ear gleams half paradise.


Tr. Tatyana Golub and Rebecca Gould
***

Hair falls like sheep's wool to the floor.
Scissors, silk, the scent of water and hairspray

Here is a head, naked — poor as a reservation,
A towel like a groundsheet over it

O every tooth should have a diamond in it
So as to travel the world like a leper  

Exit the barbershop into May afternoon,
A platinum blond dressed in an undershirt.


Tr. Tatyana Golub and Rebecca Gould
***

The sky roared today
As it raced like a horse.
Like with candle wax,
My ears are filled with music from the headphones  .

Like an apron it dangles on the gentle neck,
Contemplating clouds,
I'll find the clone like a lost glove
Inside the sleeve.

I see: on my how a pregnant cloud
Approaches my own hut,
A citizen buys whiskey
The postmaster carries the mail.

I and I are like two Americans
Watching the aborigines.
White days, white yogurt in the jar.
A spoon lingers in the middle.


Tr. Tatyana Golub and Rebecca Gould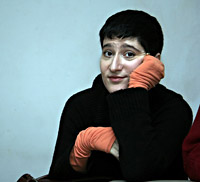 Maria Stepanova(b. 1972, Moscow) has published in many different journals including Znamya, Novy Mir, and Vozdukh. She has published several books of poems, and is the laureate of the Andrey Bely Prize (2005), the Pasternak Prize (2005) and the Hubert Burda Prize (2006). Her poetry was anthologized in Contemporary Russian Poetry (Dalkey Archive 2008) and An Anthology of Contemporary Russian Women Poets (University of Iowa Press 2005).
Copyright Notice:

Please respect the fact that all material in Jacket magazine is copyright © Jacket magazine and the individual authors and copyright owners 1997–2010; it is made available here without charge for personal use only, and it may not be stored, displayed, published, reproduced, or used for any other purpose.