This piece is about 5 printed pages long. It is copyright © Nikolai Zvyagintsev and Peter Golub and Matvei Yankelevich and Jacket magazine 2008. See our [»»] Copyright notice. The Internet address of this page is http://jacketmagazine.com/36/rus-zvyagintsev-trb-golub-yankelevich.shtml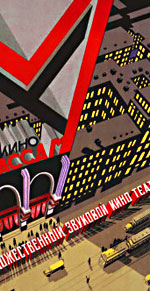 Back to the Russian poetry Contents list
Nikolai Zvyagintsev
Tr. Peter Golub and Matvei Yankelevich


Mayakovskaya Station[1]

I.

You want to see the future of Soviet parachute technology?
I am the only mannequin in the station crowd
What am I now, statue in a fur coat
When I raise my head, but without my red pioneer trumpet.

Something is sown in these ribbons, hollow bagatelle.
In the vials of past smells the world is at a sharp angle.
Look up kiosk salesgirl look up and see
How our future pilots master the sky in the ceiling.

Their country held them by the legs, while citizen Deyneka
Tacked down ideas with colored glass
High voltage lines, pines trees, an underground sky,
The monoplane that came before my parents.

In a Tatar province the wind, and a white flock
Draws for the great epoch, what they call "sketches."
If you look at your feet — boots grow,
Boats turn into felucca, heels are worn away.

Now, Leda the swimmer tosses off her pumps.
You won't encounter another like this shoe, glass, gloss.
Her hair is wet which means it's summer in Crimea,
Or someone in Moscow just felt like having a wet head.

II.


This is the third poem in which I reference Mayakovskaya Station. Why? Why is there so much of this station in my poems? Probably, because this is one of the only places where I don't feel estranged. Mayakovskaya Station and .
I love Moscow, but I don't consider it to be a beautiful city. Probably because it does not feel like a City, the place crumbles into temporary, spatial rinds, which can be good or bad, but combined do not make up a whole.
An eclecticism, but the wrong kind; it reminds me of the museum in Pushkin Hills, into which Semen Geychenko dragged everything he accidentally came upon. But in houses where people actually live, things are distributed accidentally. This relates even more so to the Moscow metro.
The city's milieu is all in all contemporary, but in the metro it's different. On the way to work you have the time to pass through all of Soviet life, looking at it with the same eyes as the first passengers. I don't know if this is good or bad.
With regards to Mayakovskaya... I've been friends with it a long time. And even — what a seditious thought — feel that we are the same age, because, when I am there, I am at home; only the guests change, the people around.
Altogether, Alexey Dushkin built many wonderful things, but Mayakovskaya is an indubitable masterpiece. The most interesting is what I call the "water level:" there is a band on each pillar, about 170 centimeters from the ground (around eye level).
All these bands come together, creating a horizon line, and you see what happens not only above it, but below it as well, creating the sensation that things are transparent. So there you have it, this kind of uncanny descriptive geometry.
Incidentally, Dushkin's granddaughter was my history of architecture professor in college. I remember Pelevin writing about an "underground sky." Certainly Mayakovskaya has a real prewar sky.
The passengers of the ground train observe the action in the window, and see a long horizontal picture. The itinerants are presented with round windows above, and each of the 33 windows is an opening into another space.
Mayakovskaya needs to be contemplated thus: first descend by escalator, then stand on the longitudinal line of the station, and slowly walk while looking up. People are usually pushy in the metro. But I've noticed that if you walk like this, you are usually respectfully circumvented.
Yes, go and throw back your head. And carefully look into each window. Soon they will finish the second entrance, the end wall will be replaced by an escalator, and the most peaceful place in Moscow will turn into another ant farm.
Thing is, the very last window at the end wall is a mural of oranges. How will anyone look at these oranges in a crowd at the end of an escalator? Scale is a fantastic thing. Semenovskaya weighs on you in Egyptian, Komsomolskaya turns a person into spittle, Krasnoselskaya invokes a physical anxiety.
Mayakovskaya declares harmony, as much space as needed. And how much space is really needed anyway? No one knows, but everyone sees when there is too much of it and when there isn't enough.
The Soviet architect A. K. Burov noticed that if an architect wants his buildings' inhabitants to feel like complete assholes, he need only make the stairs 10 centimeters low. It's like walking on rail-road ties, hahaha...
And at the Parthenon each step is 18 centimeters high, which makes it difficult for a person — for he has come to visit an extraordinarily tall God. But is a fine one as well. Recently I found out that his naked boys — future pilots — adorn that building by Sokol Station.
You know the one where they put the Arbat Prestige store...So our theme continues, toward the north-west of Mayakovskaya, in the direction of Rechnoy Vokzal. That Sokol Station, built by the Cheka, who back then must have been of untraditional orientation.
This is a strong theme of the 1930s — the future sky, which people only look at it, when there is something worthwhile going on: an air parade, a tall pine tree, high-voltage power lines, four men paragliding the windy emptiness of eastern Crimea.
So there you have it, look out the window on the way to work. The sky plays with distance; it's all the same to a person looking from the ground, a giant TB-3 bomber or a tiny raptorial monoplane — equally distant bits of freedom, some symbol outside of ideology and time.
A pretty tale that doesn't need to be rewritten. It's like when Ivan Yakovlevich Bilibin returned to the USSR, Goznak[2] had to erase all the swastika solstices from his early work. Nothing Deyneka did beats that.
Not even the bust of Mayakovsky, right under the oranges, perturbs me. This is after all his childhood sky, there, in Baghdad; it was exactly before this sky that he, being almost completely bronze, felt himself indebted.

***

Handsome tanks rolling into Harbin.
A mister rolled out to the terrace,
Cracked an egg on the blunt side
And drank the warm milk down.
The bubbles pulsate still
Of Vertinsky's skies, the war,
Like an oily puddle, burns,
Or like a lone small lamp.
But here we read between the lines —
A myriad and fifty names —
A dialect crawls up the wall
Of those not drawn into our circle.
Willing to embrace the zealot,
To wed the button to the cloth,
But those — invented — troops
Are now dispersed in all respects.

Tr. Matvei Yankelevich
---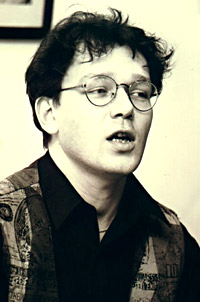 Notes
[1] Please look up Mayakovskaya Station.
[2] Goznak is responsible for the production of coins and bank notes.

Nikolai Zvyagintsev (b. 1967)  graduated from the Moscow Institute of Architecture, and currently works as a graphic designer. He is one of the earliest members of the Vavilon group, and has been publishing in various underground zines since the early 1990's. He has four books of poems including, Crimea NZ (2001).
Copyright Notice:

Please respect the fact that all material in Jacket magazine is copyright © Jacket magazine and the individual authors and copyright owners 1997–2010; it is made available here without charge for personal use only, and it may not be stored, displayed, published, reproduced, or used for any other purpose.