This piece is about 5 printed pages long. It is copyright © Stephen Vincent and Jacket magazine 2008.See our [»»] Copyright notice. The Internet address of this page is http://jacketmagazine.com/36/vincent-s-ocean-beach.shtml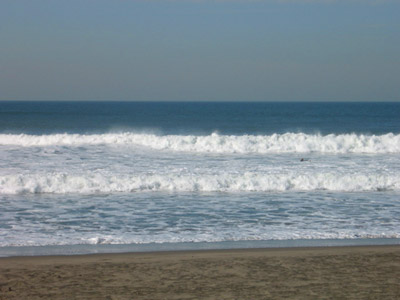 This ocean, humiliating in its disguises
Tougher than anything.
No one listens to poetry. The ocean
Does not mean to be listened to. A drop
Or crash of water. It means
Nothing.
It
Is bread and butter
Pepper and salt. The death
That young men hope for. Aimlessly
It pounds the shore. White and aimless signals. No
One listens to poetry.

          —from Language, Jack Spicer (untitled, first poem)
Dear Jack,
I took you at your word. I wanted to test your proposition. What would happen when I went to listen to the ocean? On twelve days in late November and early December, I took a blue, felt-tip pen and blank accordion-fold book with twenty-four panels to face the Pacific along Ocean Beach in San Francisco. From the south end, a little below Fort Funston, to Land's End at the far north, I sat down among the sand and rocks: next to the cliffs at Fort Funston; off Highway One at Sloat Boulevard, Taraval Street and Beach Chalet; then down among the burnt brick and cement ruins of Sutro Baths.
At ebb, flood and low tides, as if a man possessed and/or in prayer, I put the open accordion-fold across my lap and listened as closely as possible to the slippery wash of waves retreating north, south and west; the chiseled, variable pounding of the breaking white caps; the resonance — from a loud roar to a bare hush — of a constant sound that seemed to radiate from beyond the outer horizon of incoming swells. Ocean sounds, on top of which were those of the winds — some gentle, some with quick, stabbing edges — while the air itself unpredictably splintered into the shrill calls and squawks of airborne gulls, crows, pelicans and so many birds I cannot name.
With the pen, I began to register the pulse, shape and duration of the multiplicity of sounds. Dots combined with jagged and smooth lines mirrored the motions of waves breaking, the curves of their shapes, the rhythm of their rise, thrust, collapse and retreat. Day by day, each page filled with a fabric of marks, layer upon layer, in the way an ocean is a multiple series of visual and acoustic shapes, filigrees, lace, bird calls, crow caws, gentle push and/or cutting slashes of wind. Each day, each panel carried its own signature: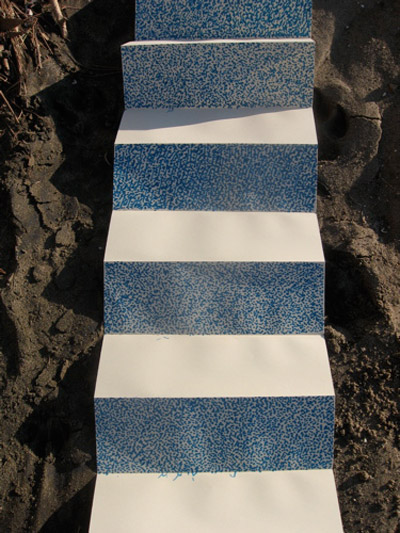 As the days passed, I grew more taken by an increasing sense and measure of the ocean's intensity, its weight, its veritable power. Had I put myself in a unique dialog with this totally other being or — unmediated — had I let my senses become the ocean's visual channel? Occasionally, in a way that I appreciate, spontaneous streams of sounds emerged from my chest through throat, mouth and into the air, as if the ocean and I had united into a wailing wall. Any current of ancient grief or love — including the recent death of a poet — was drawn out into profound release; simultaneously, the pen exploded, or so it seemed, into an intense ascent and descent of dots, curves and shapes.
At other times, there was no wisp of individual consciousness, just the ocean's sound, rhythm and force taking its presence while the marks made a dauntless mirror of the ocean's voice, each day unfolding ever so variously:
"Humiliating"? That would not be my word, Jack. "Disguises"? Yes, its surfaces kept changing. But one rolls with that. Today during floodtide at noon, I looked up from the panel to watch many surfers mount the liquid planes behind and below each rising wave. The good surfer constantly reads the changes, glides his or her board up onto the oncoming wave, reads the moment to rise up on the feet, then reads the wave's shape, gliding down, cutting back and forth against the long spiral roll of its falling crest, and, by accident or choice, taking a fall before gripping the board once again to kick it back out into the ocean, to choose to catch the rising volume of another wave. Yes, the vain might say it is humiliating to get thrown off by a misread wave, but I suspect, for any surfer, such falls come with the territory. One wave's disguise and deception is the transparent accessibility of another — a process that happens, often enough, when one makes one poem and then another.
Tougher than anything.
Whether anyone is listening to the poem and/or the ocean may not be the question. Whether not listening to one or the other is a major loss is another question. The inability to be heard no doubt can be read as one source of the poem's lament, or the lament for any great poem that goes publicly ignored, like an ocean without a port, a city without a landing dock, a place to take it in–Pepper and salt–the poem's bread, the goods.
Perhaps from a contrary angle, my friend, the poet Beverly Dahlen,quoting the photographer William Eggleston, tells me "It has nothing to do with words." Neither ocean nor stars have any intentionality. Words are something we writers do. "It has nothing to do with words," she repeats. Nature, this ocean — whatever we call it — is absolutely oblivious to whatever language may attempt. Poetry takes place in a stone cold universe, a universe that was here before us, now with us, and after us. As blind to us as a doorknocker.
What a comforting thought! Poetry alters nothing. Language a kind of wallpaper on the whorehouse wall.
It is also true, Jack, that — except for those surfers, when the waves are right, and the folks walking their dogs, and maybe the odd family or a Chinese tourist with a camera looking to the East — this City ignores the ocean, ignores your poems. Pounding the shore. Wake us, or we drown. What arrives, appears, disappears. Infinite in its disguises. Those poems.
Occasionally, one listens, closely. One by one, wave upon wave, century upon century, relentless. That's about as good as it gets, Jack.
Who knows if God is the ocean or if we make the ocean into God — and we have to go there to listen? Those waves bearing messages. Each wave a lip, the serrated edge of which is an uncurling form of script, a ledger's force, a signature momentarily and variously in-scripted, unfolding again and again. Who knows the translation? Elusive, yet its force compels us through our days.
Maybe that's all dumb romanticism, Jack.
Poems listen to poems.
Poems contest poems. Poems contest poems for love.
Like arm wrestlers in the dark, this is a contest.
Let's leave it at that.
Listen, Jack.
 — Stephen
---
You are not what you were. You
Still, inordinately, convulsively
Slip into the grammar whatever
The point. To be in love with the pointless
Cancels the master's grid. We muck up
Magenta to find the mother still home
Though she insists you are the tear
In the flowered wallpaper once gummed up
As a sample by Oscar Wilde (1890)
To train the American woman to be
A good housekeeper, no matter
The terrible weather, its incidents
Flailing the upper coasts of Lake Superior:
No doubt most, if not all, cave down
Behind the 'Vanity Curtain', age forming
Holes and bends in the flesh. The old underwear
No manner how well folded and ironed
Slips off the wilting body. What we adjoin
Is a mystery to most: naked, quivering
A slight dance before the final lamppost.