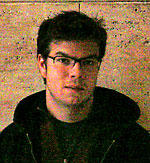 Ben Lerner
Ben Lerner's books are The Lichtenberg Figures (reviewed in Jacket 28) and Angle of Yaw, both published by Copper Canyon Press. He co-founded and co-edits No: a journal of the arts.
Jacket 25: Ben Lerner: Three prose poems from «Angle Of Yaw»
Jacket 26: No: Ben Lerner in conversation with Kent Johnson
Jacket 28: Ben Lerner reviews «Migration: New and Selected Poems» by W.S Merwin
Jacket 28: Cyrus Console reviews «The Lichtenberg Figures», by Ben Lerner
Jacket 31: Ben Lerner: «Curves to the Apple», by Rosmarie Waldrop
Copyright Notice:

Please respect the fact that all material in Jacket magazine is copyright © Jacket magazine and the individual authors and copyright owners 1997–2010; it is made available here without charge for personal use only, and it may not be stored, displayed, published, reproduced, or used for any other purpose.
The Internet address of this page is http://jacketmagazine.com/bio/lerner-b.html