One autumn afternoon more than twenty years after Mina's death, I went looking for her grave.
      Aspen Grove Cemetery was still, except for the leaves rustling in the wind. Birches watched over the graves with their ubiquitous "eyes"--the ocular impressions left in their bark by departed branches. The low-lying tombstones were unlike the groomed memorials of urban cemeteries. Covered with wildflowers--holly grape and fireweed, asters and dogbane--, they blended into the landscape. The dry stalks resting on the earth were the remains of wild narcissus that bloom each spring, explained my companion, the poet Karen Chamberlain, who had known Mina in Aspen.
      Meandering through the network of paths across the hillside, we saw children's graves from the large families of the previous century, their stones adorned with cherubs and garlands, and simple wooden graves for the miners who had labored in these mountains, for the victims of railroad crashes, and for the wonderfully named Woodmen of the World--people who had lived the hard western lives that Mina tried to imagine. Some headstones leaned against the aspens, others barely emerged from the earth around them. Many bore angelic hands pointing down from heaven to direct the visitor's thought. Mina's grave eluded us.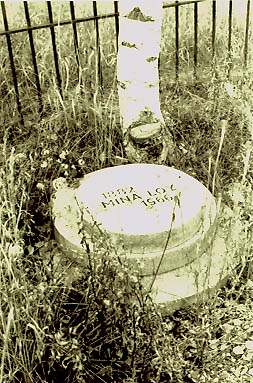 The next day we were led straight there--as if the first afternoon had been a test. Inside an iron rail at the top of the hill, her stone sits low on the ground like others in this family plot, where the spirit of modernism echoes in Herbert Bayer's spare designs. In contrast to the symmetrical stones planned for his daughter, himself, and Joella, Mina's three marble circles are set eccentrically, each from the other as well as from the memorial's center--perhaps a concession to her aesthetic. Engraved on the uppermost of these skewed circles are her dates of birth and death and Mina Loy, the name she chose for herself.
      That day, wildflowers blanketed her grave. Brushing the dirt from its surface and clearing the base, I said their names in lieu of a prayer. Then, wanting to commemorate her with some Victorian sugar--garlanded cherubs or hands from heaven--my mind inserted Merton's angel into Bayer's design. An unexpected mix, much like Mina.
      As we walked down the hill in silence, the golden light burnished the aspens.

 

Photo of Mina Loy's grave copyright © Karen Chamberlain, 1989, 1999
---
Ordering Information: Becoming Modern: The Life of Mina Loy, by Carolyn Burke, ISBN 0-374-10964-8 Hardback, Farrar Straus and Giroux,  US$35
Published in Canada by Harper Collins, Canada Ltd. CAN$49
ISBN 0-520-21089-1 paperback, University of California Press US$18.95.
Available at local bookstores throughout the United States and Canada. Bookstores may order through Ingram or Baker & Taylor, and individuals may use these direct links to order via the Internet:
      directly from the publisher, the University of California Press
      in the USA from Amazon books
      in the UK from The Internet Bookshop
      in France from the Village Voice Bookshop in Paris
      and in Australia from Gleebooks in Sydney or Readings in Melbourne
 
Copyright © Carolyn Burke and Jacket magazine 1998, 1999
 
The URL address of this page is
http://jacketmagazine.com/05/mina-ep.html