This piece is about 1 printed page long.
It is copyright © Chrissie Gittins and Jacket magazine 2009. See our [»»] Copyright notice.
The Internet address of this page is http://jacketmagazine.com/37/gittins-3p.shtml
Chrissie Gittins
Three poems:
     Anxiety / Menopause / Sex Drive Problem


Anxiety

A lark hovers in my chest,
sild slip through my veins,
my hip bones are egg cases born of whelks.
A piccolo plays a note which doesn't stop,
my feet keep sinking into sand.
I long for a walnut surface to lie on,
for a willow tree to surround me,
for a parent with a gentle hand.


Menopause

I know she'll come back but it's the evidence I miss,
her 'product' in the bathroom,
her washing folded on the stairs,
velvet cushions imprinted with her limbs.
I stand in her room and name the animals –
seal, bear, badger, dolphin, monkey, whelp.
There are eight strands of hair in her hairbrush.
I tease them out, thread them round my fingers,
then push them back amongst the stubble of the bristles.


Sex Drive Problem

Not so much a problem as a mismatch.
I'm like the Minotaur's father,
ready to bolt from the edge of a field.
She's satisfied with her orchids,
delicacy and grace, delicacy and grace.
When my blood's up I want
to rent the air with her screams,
fold into her like high surf
cascading to join the shore.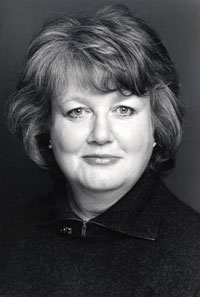 Chrissie Gittins' first collection is Aramature (Arc, 2003). Both her children's poetry collections were shortlisted for the CLPE Poetry Award and 'I Don't Want an Avocado for an Uncle' was a PBS Choice for the Children's Poetry Bookshelf. She also writes radio drama for BBC Radio 4 and her debut short story collection is Family Connections (Salt, 2007). Her new adult poetry collection I'll Dress One Night As You is also published by Salt. www.chrissiegittins.co.uk
Copyright Notice:

Please respect the fact that all material in Jacket magazine is copyright © Jacket magazine and the individual authors and copyright owners 1997–2010; it is made available here without charge for personal use only, and it may not be stored, displayed, published, reproduced, or used for any other purpose.