Barbara Henning
Three prose pieces:
Out of Detroit
Organ Light
Protestants and Catholics
Out of Detroit

On the corner of Mack and Alter where my grandmother raised nine, there's a Rite Aid parking lot. The building where I lived in sixty-seven is an empty lot littered with garbage. Over and gone. I'm heading out, taking I94 west. Just outside of Chicago, two guys on Harleys pass me, one wearing a black cut off teeshirt, with shapely arms and legs at an angle, relaxing back into the speed. Swerve old camp after a clip. The other's wearing levis and a black helmet. I'm trying to follow them as they weave in and out of traffic. I pull up alongside the black teeshirt, cigarette pack rolled into his sleeve. My childhood was like a short cigar. These guys are not wallowing in their problems. Here the self begins with a deep inhalation. He passes me again and this time he turns his head, winks, and then hits the gas, swerving into the inside lane. Empty between nine and the law. Ontario plates. I find a pencil behind my ear. Motorcycle accidents have killed more soldiers in the past 12 months than enemy fire. Low head into the traffic and then perhaps into a pillow. After several hours of driving, I set up camp at Shabbdona Fish Preserve State Park a humid, forested campground, full of insects and fishermen. In the morning, an old guy with a long grey beard climbs out of the trailer next to me and walks toward the lake with a clipboard taking notes.


Organ Light

I am thinner in the morning than at night. Organs don't work as well as you grow older. Still I am surprised on this sitting whipping overcast morning. The sky is grey, monsoon going on longer than usual. At night the branches are bending to the ground and a river of water appears in front of the house. Buddhism spread eastward from Afghanistan to China and eventually to Japan. Organ light into the crack of night. The sun comes out. When you are walking along the Tigris, you can see the mosques, the trees and hear the birds talking. I'm sitting on the porch in Tucson holding a clay head Allen made when he was ill. The clay is cracking and rolls of hair are breaking off. Lizards look for cool places in the cracks in the house. I run my finger down his nose into the cavity of his mouth. My neighbor comes out of his house with a plank of wood. He looks at me, I'm sorry Barbara but I need to cut this. The cavity in the sky. And then the saw starts buzzing and I think of Charles Olson as he was leaving Gloucester. Don't look back. Go forward. Early break lodge. Cut porch sick comes night. Afghanistan's dream of reaching the Cricket World Cup is still alive. I kneel and dig a hole and bury Allen under the orange tree.


Protestants and Catholics

In a backyard in Warren, Michigan, I'm sitting at a picnic table eating potato chips when a young girl arrives maybe seventeen in a super tiny mini skirt with a diamond belly button ring and a boyfriend carrying a big boom box. Surprise. A stripper for the father's 60th. The groom's family in Baghdad gives a dowry of a million dinars to the newly wed couple. The skinny belly button girl wraps her legs around the birthday boy's face and the men put money in her panties. The wives sit around smiling and drinking. You dance without your number. The price for brides in Iraq went down as the death toll went up. Watch me in this number wrap around another. The light from the Wolverine game on the overhead television screen cuts across the lawn. Someone whispers—Get the girl's number, and we'll try to reform her. After the war, female teachers in Iraq got a raise and the marriage rates doubled. On the front porch, sitting with the children, I watch the couple drive off counting their money and heading over to another backyard party. We're seven boom legs crossed and criss-crossed and that makes a point. Life in an occupied city is not kind. Hand dust glass talk of sliding in the air. "The problem is you're a Hazaras and I'm a Pushtan." I'm still on the porch when my phone rings and it's my friend sloshed, depressed, and thinking about making love. The problem with you, he says, is you're too literary. Glitter-haired girls, twirled gold scarves, belly-button rings. On the way home my passenger (who wouldn't let me shave my legs when I was fourteen) says, "You don't know everything about him. When we went out dancing, he would get up on the stage and dance with the hula girls. And you," she points her finger at me, "you used to take your clothes off in art classes for money." Then we decided to get married.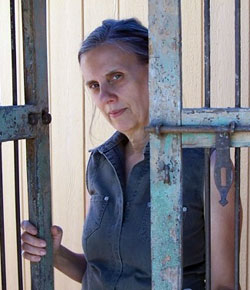 Barbara Henning's most recent book is a collection of sonnets, My Autobiography (United Artists, 2007). Two new books are forthcoming — Cities & Memories (Chax Press) and a novel, Thirty Miles from Rosebud (BlazeVOX). In the 90's Barbara was the editor of Long News in the Short Century. Born in Detroit, she relocated to New York City in the early eighties and now lives in Tucson. She is Professor Emerita at Long Island University, and presently teaching courses for Naropa University, as well as LIU and the Poetry Center in Tucson. Her occasional blog is at http://barbarahenning.blogspot.com/