This piece is about 5 printed pages long.
It is copyright © Camille Martin and Jacket magazine 2009. See our [»»] Copyright notice.
The Internet address of this page is http://jacketmagazine.com/37/martin-sonnets.shtml
Camille Martin
8 Sonnets


     * * *

i'd like to help your famously habitual 71% water,
i really would. i'd like to unmake the myth of you,
render your pronounceable mouth illegible, whisper
into your kosher rods and cones rumours of universal
blindness. i'd love to introduce your contortionist amigdala
to a slacker dawn, overflow your unschooled love
in melismatic dwellings, your stitched-up largest organ
circumambulating without a stitch. in short,
to disturb your utopian house, place your clandestine
freak front and centre, spouting cl-cl-classics of slangy
topoi. but then again, i enjoy too much building
the little structure of you and then blowing it up, prompting
the grinds to discover epic lines between the stars
of your infidel constellations.

     * * *

bulging magma gathers
mud, pries fossils aloft, absorbs
chimney spew whose arbitrary
particles merge with vouchsafed
affirmative. dappled deeps
forge apples from gunwales. sparse
tomorrow takes as gospel
scraps, fractured riddles. broken
kinship urges looping script.
dust skitters in the dawn
of a raggedy broom freewill's
occupied with. flimsy
dust and flimsy dustpan
gladhand. why not?

     * * *

elsewheres weave joy tents for whales with self-
made frills on, wake stone geese to sharp
heartbeats of their own lost kind, seize air thick
with still-fresh daybreak wrapped in clouds' pale
cloth. elsewhere, nightmare's bloomed shock loves
raindrops' dive-bombed landscape, loves all elsewhere
can rouse drugged skies, heave brave howls
from the once-mute locked maw of one's deep light.
green magpies fly far-off, seek more elsewhere, more
depth where a seahorse with tear ducts weeps in swells
of thick waves, where deft aircraft skim gold
off plump words, where lungs breathe elsewhere's
thoughts, soft ruins where tins strewn pell-mell dream
shell's beast, ring sun's bells, shell one's husk.

     * * *

plotting unawares the direction of impulse
(which is to say, not plotting at all).
on the verge of pronouncing a shabby
but proud apostrophe. exploiting
bogus entropy to veer off the path wholly
engaged in blended lies and woven
tales. freebasing fiction, hard up
as a blindfolded gambler. desiring
against all the evidence to be duped again
by blinkering syllables as plain as
a bunch of sunflowers peering
through village fog. declaiming a reckless
arabesque to patch up severed
nerve endings with dumb surds.

     * * *

      remember to wind up sockets
to stave off icy clack, yank down
the goods that fatten innuendo,
confound eavesdropping bylaws in fluent
mesh, cauterize or maybe ravage folly
(a personalized lilac tomb)
      remember to misapprehend stolen
premises of the demimonde, slice
time in half to strip consoling
brackets, scalp mindless peaks
atop shallows of rank muscle
while trembling before mutant
weeds, haunt the shucked
spinal column once and for all

     * * *

still at funnel wake,
braided unction stomachs no
crime, spurs no spit of plowed
habit. so, wrong torque? other-
wise puppet? shrieks drain cloistered
moot of leftover ham-fisted
squirm. frail threads ascend
breakage flank, crucified
squander. shift regalia
collapse to lapsed impetus: if decay
veto 'as if to say.' as if to beg
brawn of pander flint, lucid
hunger spectacle. as if
to bugger lawn.

     * * *

               and lastly, zither
slash        memorable -copia for
herbaceous calendar fork-
over        what stalled bids a-
ghast one's acumen doggedly
slew        from exquisite morph
to extraneous bastion, false
comet slangily zeroes in on ac-
curacy: cricket xyz (no -fluence)
for 19-gasket formula        cow-
town flap is all the thistle do
jar's about        analogical skin
to contortionist redux —
               a vastly dither mash

     * * *

i've been far too literal. so what will it take
for you to hold out for a rickety machine drowning
in white noise, transposing the pleasure of grand arcs
into the key of motes? to buy into a futile game
so you can enjoy the half light playing on the lawn
over your half-empty grave? perhaps you've been too sly
for epochs blooming in the shadowy sprig of a comma,
for sleepwalkers colonizing a semi-public landscape. perhaps
you've been too absorbed collecting frames to notice
consciousness capsized in purgatory. nonetheless, matter
leverages victories for its blunder of choice:
'if ever background errors fade from happy frescos, i
and my vibrating airwaves will humbly take leave.'
and now for the figurative version.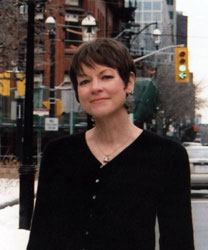 Camille Martin, a Toronto poet and collage artist, is the author of Sonnets (Shearsman Books, forthcoming) and Codes of Public Sleep (Toronto: BookThug, 2007) in addition to several earlier chapbooks. Her poetry has been widely published in journals in Canada, the United States, and the U.K. She recently received funding from the Ontario Arts Council to continue work on a poetic sequence based on her Acadian/Cajun heritage. She earned an MFA in Poetry at the University of New Orleans and a Ph.D. in English at Louisiana State University. Since 2006 she has resided in Toronto, where she teaches writing and literature at Ryerson University. Her website is http://www.camillemartin.ca

Copyright Notice:

Please respect the fact that all material in Jacket magazine is copyright © Jacket magazine and the individual authors and copyright owners 1997–2010; it is made available here without charge for personal use only, and it may not be stored, displayed, published, reproduced, or used for any other purpose.