This piece is about 1 printed pages long.
It is copyright © Steve McOrmond and Jacket magazine 2009. See our [»»] Copyright notice.
The Internet address of this page is http://jacketmagazine.com/37/mcormond1p.shtml
Steve McOrmond
Night Figures
Crescent moon,
a shut-in's toenail.
Silence, pouring out
its life story.
Cold, bone's
tuning fork.
Whisky, olfactory
chiaroscuro.
Darkness, a gloved hand
pressed over the mouth.
Telephone, at this hour
must be bad news.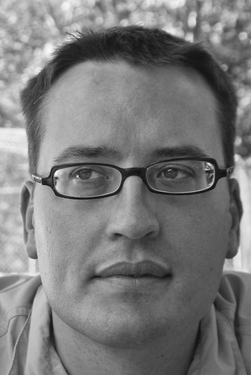 Steve McOrmond's poetry appears in the anthology Breathing Fire 2: Canada's New Poets. His most recent collection of poetry, Primer on the Hereafter, was awarded the 2007 Atlantic Poetry Prize. A new poetry collection is forthcoming in 2010 from Brick Books. He lives in Toronto.
Copyright Notice:

Please respect the fact that all material in Jacket magazine is copyright © Jacket magazine and the individual authors and copyright owners 1997–2010; it is made available here without charge for personal use only, and it may not be stored, displayed, published, reproduced, or used for any other purpose.