This piece is about 3 printed pages long.
It is copyright © Annie Mullen and Jacket magazine 2009. See our [»»] Copyright notice.
The Internet address of this page is http://jacketmagazine.com/37/mullen-annie.shtml
Annie Mullen
Three poems
You're Highness / Jarlyth and Phyllis / News of the World

You're Highness

1.
I, silent, watch you and 'the boys'
and my nostrils burn.
I forget you are my turtle.
I despise your amazing God.

My skin launches off,
I'm crumbling crusts again.
So I am left. I sit, certain,
jealous I don't know
how to spell 'success'.

2.
My nostrils burn, He is taking up
too much of my beloved's bed.
I am called 'your' girl
And I have to wonder
if you wish — do you wish? —
that my waist was more baby suited?

I am not the dirt of your past.
Your mouth let me in, but now
I want out. Your shell is cracked.
I'm surrounded by only your pink,
that horrid pink that is praised.
I want a coffee and a conversation,
but you're out of both.


Jarlyth and Phyllis

1.
He is a martyr, she told me that.
She speaks as if I have never met him.
I witnessed him, he was moving slowly,
always amongst the grey,
signalling a gun to his head
("better off dead")
with his old crinkle-cut Irish hands.

I wrote you both a generic postcard,
but she says you're now in rehab.
Did you want to go? I feel a frown.
I thought you wanted it all to be done,
let the ground soak you up, let the soil
own your frail body. No? Who owns it?
I sent the postcard, in bad faith,
for I doubt you'll read it.
The cataracts won't let you down.

2.
You're back at home, in your favourite chair.
Threads fall and disappear,
but it's ok because you taped Coronation Street.
She loved you with all your moans, quirks
and stories of when you went to war
for a country that was not the country you lived in,
but will be the country you died in.

You got the postcard.
The story of the American with too much food
is definitely one of my favourites.
It seems relevant to how things have always been.
I feel you cover your light, which is fine,
but now her light, you smother it under your grey.


News of the World

You say create a telos of your own,
because there is thrill to be found
in what is yet to be made.
I say I want some cheese on toast,
preferably on rye bread.

An advertisement for the CES,
is yelling at me, "Pull on some overalls!"
There is a tanned man.
Once, when I was 10, he used to surf,
now he just yells.

"I could go a shag right now"
I whisper in your poisoned ear,
as a diseased hog attacks a vegetarian.
You don't hear me though.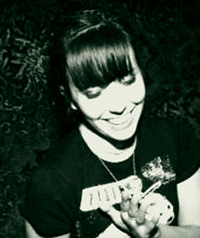 Annie Mullen is a 23 year-old English-born, Melbourne based poet. She is currently in the final semester of completing an Arts Degree at Monash University, with majors in Philosophy and English. This study included a year of Poetry under the guidance of John Hawke. Jacket is her first online publication. She currently works at a record store while doing some freelance writing. Annie is hoping to publish a poetry and photography book in the near future.
Copyright Notice:

Please respect the fact that all material in Jacket magazine is copyright © Jacket magazine and the individual authors and copyright owners 1997–2010; it is made available here without charge for personal use only, and it may not be stored, displayed, published, reproduced, or used for any other purpose.