The Internet address of this page is http://jacketmagazine.com/37/r-dolin-rb-mueller.shtml


Sharon Dolin
Burn and Dodge
reviewed by
Robert Mueller
108pp. University of Pittsburgh Press. US$14. 082296005 paper.




The Two Sames, Rescue by Dante — Again
Believe it or not, it all comes through Dante. So the rhyme-beats hammer personal torment in the poem 'Envy Ghazaled' from Sharon Dolin's latest and large book. So the rhyming (or refrain), the internal pressure, the reeling in of face and figure — all Dantesque proceedings — snare sudden beaming difficulty; and they broach that hard measure with more grist, it would seem, than any stratagem imaginable: [1]
Sometimes you're my younger self: Self-envy
no oxymoron—nor envy of being nineteen: Slain.

Count me happy when I can enjoy the lot I've been given.
Confessing to you, I know it's quite obscene. Slain.

Write to exorcise—or exercise—you with lines, images, rhyme.
If Sharon does not from Envy wean—slain.
The ghazal, in seven distinct and hard-stopped couplets (from five to 15 couplets permitted; seven is a common choice), [2] accomplishes what the famous words 'Nel mezzo del cammin di nostra vita' of La Divina Commedia carry in their wake. And it does so just about as satisfyingly as it bears down with thoughts like these, and with thoughts like 'How many parts of lives I'd exchange'. That is, with much to doubt and with much care to exert, these lines pointing to the times of one's life. It is no accident how Dante's departure and Dolin's arrivals meet. Dante's nervy steps brace to the cadence-critical of such opportunities as Dolin's late returning post-mortemizes, and the words of the book's title, Burn and Dodge, borrowed from tonal distortions in photography, illumine more than one kind of de-memorializing encounter.
As does the other poet of the Inferno, Dolin finds plenty of infliction to go around. Surely envy, sin and punishment, evidently some relief, release, some expiation and if not forgiveness maybe self-forgiveness, are in full gear in this sequence of poems that are earnest and emotive and, as the speaker in 'Envy Ghazaled' avers, at times confessional. Not without humor, however, as when in 'The Want Room' the speaker rehearses that familiar residuum of longing from the point when 'now that I've plumbed midlife / when nothing nimbles the heart numbed'. There is method in the saddened striving. The jingle of half-hilarious, not exactly dark, affections wails the rebounding spirit into action to re-destruct the poet's desolations, to cow them and coy them roughly.
So it is also uncanny how the moral keeps looking to a shadow self. Ingenously, woundedly, hard thoughts circle back to a penchant for what times as if to thick objects in space. More roomy less gloomy they keep calling back:
[…]
so that the most I can do is long for longing, hanker
           for rank hunger, thirst for raw thirst.
                      I want to kneel at the foot

of this desk, bed, door and pray
           I can still pray for something.
                      That the blood and breath of this body

can still rise and pant for someone.
           That even if it's taken all day to unfold
                      these few minutes accordioned in

before I snap on the body-
           suit of Mother, the Goodly
                      Housewife at the sofa, the table, the range,

that the Want Room will still be open for me
           with my blunted key […]
You can hear the cheered, dunned moments here of the Want Room, and elsewhere, and their celebrations conducted, if not with quite the terza rima magnificence of Dante, then in tricky tercets or other directing forms, and in other large inlay of close phonemics. Dolin ensures that her techniques, not the least of which is heart-ridden word-play, be an inseparable bulwark. Without her firm decisions flanking indecision, the speaker may indeed not return. The question of whether twos or threes (ghazal's couplets or gatherer's tercets), also provides a clue, clever though it may seem, for during the 'lull between the crash' in 'Slatch' the third of the famous weavers of destiny has noticeably not yet arrived. The goal of living better implies a process; the strange nurture of that dialectic, because not everyone's idea of things dialectical, implies personality. Not everyone's, and not to be trampled on for that reason.
Speaking plainly, Burn and Dodge is large, and large. The poetry is not only steeped in tradition; it resonates with the demands of form and topoi and thrilling poetic avatars everywhere you look. In one of Dolin's earlier volumes, Serious Pink, there is a prescribed focus on aesthetics and ekphrastic poetry. To M.J. Bender's delight,[3] vivid language well hones and well amplifies this visual theme.[4] In this volume a directed study of equal force, not to paintings but to the poetry of John Clare, is just one of many rich indications. No longer a secret,[5] Clare's elective immediacies furnish the form of a march toward animation, wanted and flaunted, you would think, after the close troubles of the 'Current Events' poems from earlier in the volume. Subsumed under the title 'Clare-Hewn', the 14-line sonnets (several of them in couplets), ten in number and rhyming over and over, recall their archly suffocating 14-line ghazal counterparts. Only these are prettier, only these more beautifully drenched and spring-watering, with Clare's own dusting of Romantic pain. It is more, too, of someone's madcap spuming wit. Only it is another's and not this time Dolin's 'own'.
Or is it? If the ghazal, with its rule of impeded flow, formalizes halting emotion, then the switch to 'Clare-Hewn' must be ghazal's undoing. Even a limited flowing of line and freeing of assonantal formations mark a welcome turn of spirit. And the language goes farther, much farther, and elicits almost a jazzy mood. Dear music, after all, our own dear music, the intuited stir of poet and her music, could usher in that very own triumph that seems to be an attraction and a guideline.
One form of this pleasure are delicate cinquains that release adorably (as in 'Ode to Turbulence'). Another might be 'Your Only Music' of the 'middle of your life' in style of sonnet/ghazal and in comic, bumbling quantities. But yet another might be the robust and intricate music of these 'Clare-Hewn' poems, of which Number 7 not only sings, but features an instance of relief, for the most part, from the press of the rhymes:[6]
7. Summer Moves

Isle of uneven tides to crawl along
Dowel arrowed knees orange with daisy strewn
Where foam the long reeds under sea, the sail
Jets back creel, out spouts this time-lorn
Eye to mussels or meet minnows newly spawned
Where they ring, grasping earth from these outré years
Where weary be-pined pond with sand, wordy children
Invent for flow, ere ballooned but now leap there
While in the jousting yawn the hidden krill
Circle wet my feet that hid as though unmoored.
The ferry, I like, and sailing see land roil
You turn, Creek, creek, tuck vices under ours
Greed lands (and sloth) to me (the ever undone, why toil),
And seethes, light fits into glimpse, a wound (unsound).
It is no small feat to land so smoothly on sensuousness. It is no day in the park to glide so with your tough and tangy, even jangling, contemporary claws. Still, I cannot begin to tell you what a painful trickster's process it is to find her own; nor how strangely the process becomes rewarding for the reader. Let us say that the poetry engages us for a kind of fluent struggle, that of a virtuoso budding to top form. The reaching is pesky and almost prickly, and almost piratical, and purposed to the full, based as it is primarily on the topoi of doubling. So whereas the foment stings and is direct and pitiless in its self-encountering, the aspect of doubling in Burn and Dodge is very much this plural topoi to be able to refract so many ways, and you cannot tell them all, and you cannot but see them standing firm in their fidelity.
One way to tell clear is the diptych, imaginably of Dante's date. The same two allegorical figures recur in the same opposing frames, on the cover, in the wainscoting, at the section breaks. Ouraboric Envy is the right-hand panel, and the other, as I look on it through the book's cover, could be the figure, oddly at her chore, of 'Freedom' confidently perched in her scriptorium. Thus two selves, envious, choked, and yet triumph-expecting, are two sames, why 'wanting / to return to desk' after (mis)trials of pleasures is part of the 'wanting two' of the respective poem's title (another sonnet/ghazal, as it is called).
Maybe two paths travel samewise. Maybe one is taken but less often taken. Leave the Florentine to his transcending, note how the New Englander, stopped in the woods, envies something of himself, and note here the Brooklynite envying — but which one? The denied one? The one denied this other way? The other one who shared through 'female solitude' and years later got the ghost of it? (The poet's provenance is based on internal evidence in 'Ode to Mrs. Meunier, Captain of the Guard, P.S. 119, Brooklyn' and 'Passing'.)
And so the stolen doubles and the same selves multiply self-repeatingly ('Molten multiplied to the nth'),[7] with such fierce measure of life despite it all, with such alarming and arriving word-sensation, that reading Dolin's splendid large new book, however testing, can both take your breath and warm your some-of-a-truth soul.
But what if it were something else in addition? What if it were also an absenting from long ago, a path to community taken away and never to be taken again?
But what if it were all these glamorous colors? What kinds of Hues, what kind of History of the Color Blue and History of You, Sharon, of Peacock Blue Past and Present, of Peahen Blue, could match the passion of 'O Indigo' and the exhilarating lines, 'will you too disappear as did woad-blue for you / madder-red receding to indole?'? And all the world tumbles since blue came. Reach and decide how the poet from brutal Brooklyn pulled through.
---
[1] You may get a different impression of what the form cited here can provide from the very funny 10-couplet 'Ghazal Without the Man', where the rhyming is wicked and delightful and does not reflect a tortured approach.
[2] Ghazal is an Arabic form with a long history in a number of languages, including Persian and Urdu. It is actually a collection of separate 2-line poems, and that 2-line form is know as 'sher'. Sher is distinct from ghazal, so that not all shers or sequences of shers make up a ghazal. The linking of these 2-line individual poems into a chain creates the possibilities for expressing difficult or interrupted progress that Dolin exploits in this book. To be sure, you do not have to see it that way. You might instead be able to find humor in 'Envy Ghazaled', a lighthearted dark humor of the little moments of life well under control.
[3] M.J. Bender's sensitive review of Serious Pink may be found online in Valparaiso Poetry Review, Vol. VI, No. I (Fall/Winter 2004-2005).
[4] Already in Serious Pink the occasional allusions establish a broad range of sensibilities, as when the final line of Ode to Color, 'hers, like Lorca's, will always be green [several spaces] green', specifies the repeated 'verde' in the poem 'Romance sonámbulo' from Lorca's Romancero gitano sequence. The potent charm of promising color-hue familiarizes the turn to finality as hopeful request.
[5] There is renewed interest in the poetry of John Clare concurrent with his star billing on the list of 'certifiably minor poets' John Ashbery chose to discuss in his Charles Eliot Norton lectures at Harvard, published in 2000 (Other Traditions, Harvard UP). My favorite instance of John Clare mania is the composer Steve Marzullo's 1998 setting of the poem beginning 'I Hid My Love' as sung by Audra McDonald on her album How Glory Goes.
[6] The poet eases away from the rhyming pattern also in No. 6, 'The Give, Seek, Am', which paints a sweet and charming outdoor scene of a young boy with family.
[7] From the poem 'Wanting Two: A Sonnet/Ghazal' to which I have referred above.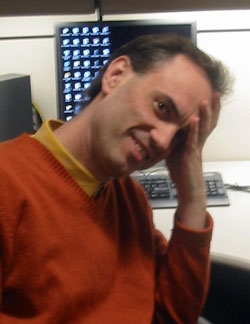 From 2008 through the beginning of 2009, Robert Mueller has contributed poems and essays to the web-based journal Spinozablue, along with participating comments on subjects numerous to behold. His poems have appeared online during the same period in Moria and SugarMule. At certain other times in his life, Mr. Mueller has pursued an interest in poetry at a more leisurely pace, branching out to different eras and languages, while in the best of times he was able to push forward and obtain, after more than enough delaying (not unusual), a Ph.D. in comparative literature from Brown University. A survivor of calls to ambition, he lives peaceably in an apartment on Manhattan's upper west side that he shares with two cats, Rudy and Grace, both female, a shorthair and a longhair.