The Internet address of this page is http://jacketmagazine.com/37/r-roether-rb-peck.shtml

Barbara Roether
The Middle Atlas: Poems from Morocco 2004-2006
reviewed by
Monica Peck
Ocean Beach Books, 2007





as mine is to you
Barbara Roether's The Middle Atlas — a hand-sewn chapbook of poems from her two years living in Morocco — speaks directly to / addresses the profound connections woven through ordinary experience — connections to others (family, strangers, animals) as well as to self, as in self-knowledge or self-reflection.
These intersections of self and others bespeak of what some might regard as the divine or godlike, as in the elegant Des Poires, where Roether tells[1] of going to the market (Arabic: souk) to buy pears, her tasting the pear is 'like a God who has swallowed the seeds of a river' — the meeting of the pear and her mind, the sensation more than just taste, she asks 'can any sound explain / a flood so quenching delicate/ etched intaglio of sweet crescendo / fruit here hordes / its ancient flavors, grafted into the mouth's memory / a history of delight / bred of sun and little water / concentrated to a pale red.'
Union / consummation via sensation (conjugal: conjugation) intersect The Middle Atlas, drawn through each poem are maps of experience for their own sake, not to teach or be taught, but simply there, as in this happened: like a map (this is here), its borders are somewhat arbitrary, even standard; Roether challenges readers in where she goes in terms of what she notices and how she arranges it (ikebana) the work. Take, for instance, the following stanza from Fire Without Wood Lake Without Water:
By the woods toward Azrou
there was once a lake
it is dry now I
was not in this country
when there was water there.
The enjambment of 'I' — is it an enjambment? — I think it is, since it doesn't stop there at the lines end, but continues to the next line through grammatical impression, married to the verb 'was' forcing us to carry 'I' to the next line (where it isn't) — and then this 'I' 'was not' as in 'was not in this country' — the difficulty of that placement, also, of the 'I' at the end of the line brings awareness to the 'I' of the poem who becomes 'you' by the third stanza with 'Off that road to your left it is / a broad hollow through the shallow valley' — and then 'I' and 'you' becomes 'we' in the next stanza with 'We do not know where the water went or why / by the time we came' — the confusion, though subtle, takes the reader through a variety of places of self (self = I, self = you, addressed by someone, self = we, one of many runners, self = other, as in not-we) and so forth, all quietly switching while discussing a lake that is no longer there, 'as all things here seem to grow from lack / and what is missing / or cannot be seen.' What cannot be seen or sensed can only be seen or sensed through the sensation of privation via dryness, meaninglessness, impossibility, unknown: 'I do not know the language with the word that contains the destiny of water'— to understand, the poet implies, one first must learn the language that allows one to speak of what it is that one cannot sense:
Perhaps these numbers mark
some obscure astrological calculations
or a Bedouin's count of kilometers left in the water place of time

but I was not in this country
when measurements were made.
And to this she adds,
None of this is what I meant to say
but perhaps it must be said as extra to approaching start
as dying is to being born or
history before the birth of the current era
negative integers crossing the line of zero
water in a lake receding.
The absence of clarity — undercutting the first section of the poem — Roether recedes from traditional authorship bringing us to question the purpose of what we just read. She is unsure, calls it 'extra' and compares it to the disappearance of the lake, turning the poem against itself again; this, all that we know of the poem so far, has just been dismissed as 'extra' — though speculative, one begins to see the lines the poet is drawing in the sand, lines that do not provide solid reassurances, but rather truths as self-apparent and mutable as the desert sands, as disappearing lakes, these landmarks, though certainly still present in their absence.
And so it comes to mind that someone once said, or ought to have said, that in great poetry one can find Everything — so it is with this chapbook: Roether's generous poetics ('this business is to bring / as mine is to you') coupled with her tremendous gift for language provides a feast worth attending time and again.

---
Note
[1] In conversations with the poet, she has freely offered that they are about her own experiences, and thus I am choosing to freely write about them as such. I recognize this may not be standard (nor am I often wont to do this), but it may be perhaps a new opening in talking about poetry, not abandoning the 'I', but not 'confessing' through the 'I' either; allowing self-narrative work to be discussed as that.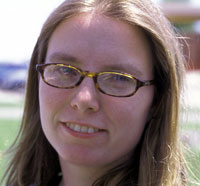 Currently pursuing an MFA at Mills College, Monica Peck is a writer and teacher in the Bay Area.