Rob Wilson
When the Nikita Moon Rose Over Hickville

Be always converting, be always converted.
— Thomas Shepard (Cambridge sermon, 1641)
The tune ['Pack Up Your Troubles in the Old Kit Bag'] returned, and the drunk resumed his dancing. I was astonished, inwardly.  
I ate my steak with great delight.  The juke-box, I said to my steak, is saving America.
 — Jack Kerouac, "The Juke-Box Is Saving America" (1941), from Atop an Underwood.
 — a pseudo-history of my heart,
for Sam Cooke, Nikita Sergeyevich Khrushchev,
the hydrogen jukebox, and MHW picking up angel on the coast




In That Crazy Year of 1944 Before You Were Born Again

The trolley did not go past the Waterbury Hospital.  The gravy train
from NYC left a brown derby across town.  I won't complain

on the other side of time.  Dreams came true in Connecticut.
Ipana for the smile of health as long as I have you.

Clang clang clang went the trolley zing zing zing zing went the collective heart.
The universe was reeling into and out of world war

under the honeysuckle moon of American ideology.
Just to stand in it was grand holding her hand in mine.

It was the GI Jive that ruled over my cradle and kept me warm.
Tears mingled in the morning milk, and wondrous white bread.

Duke Ellington wailed of betrayals in the smoky dark of beer joints.
Dad came back from the WPA program in Indiana, shaken but enlisting.

Poverty may come to me, son, it's true but what do I care,
as long as I as long as I have you.  Good neighbor policies wooed

the countess from Russia. Top-secret work on the bomb continued in the desert.
The in look for girls was white bobby socks silver hearts and devotion.

Soldiers off to the seven seas of oblivion in the battle for Rome.
Tommy Dorsey Band had a quality that went straight to your heart.

Only twenty percent of wives ever got dressed in front of their husbands
in that crazy year of 1944.  Settling down because I love you most of all.

A Hollywood starlet, jilted, donned a white nightgown and went to sleep forever.
You always take the sweetest rose crush it with a hasty word you can't recall.

If Stan Kenton became the big new band in California out where the west begins,
I was leaving a monk's hamlet in wartorn Tibet to get to Western Connecticut.

Keeping still, I was seeing God in all the familiar places, in a lovely summer
day in the month of May when the night is new when the two of us become one.

Looking at the moon but seeing you, Mom. Rivers bled industrial filth.
Do nothing until you hear from me, life went on as life does

without gas, tires, without lights or Hollywood twin beds.
Although married to somebody else, Mom wrote to her future husband

smiling shyly against the Anzio barrack steps with my future godfather,
Nick Trotta, who did something wrong and was never heard from again.

That was the sentiment that prevailed on the family radio, oddities kept us
living on nutty as a fruitcake silly as a loon in June you can forward my mail.

The war went on mounting deaths and horrors in Europe and the Pacific.
GIs sent back their war brides from a zoo in Melbourne, a park in London town.

It was love love love and war war war in my hometown,
imagining a cozy flat that never was, only the weejee board knew.

When Prince Charming got back from Anzio
and your sleeping marine uncle Dan

slept on in the Pacific forever as a dead man in navy blue water coat.
To say good-bye this way on the earth was kind of tough now.

The Andrews Sisters sang on sweetly don't cry baby don't cry baby
Daddy has gone to war. Don't count the stars or you might stumble.

The church bells around the green rang for funerals, weddings, morning mass.
Redemption, lock your dreams up tight.  It could happen to you still.

A dairy cow named Elsie became the ultimate family cow,
everybody wanted their photo taken with Elsie the Cow, Elsie mugs, Elsie ties.

If I broke your heart world it is because I love you most of all.
Let's call the whole thing off. Make the San Fernando Valley home.

Everything was dying and growing too fast as the Armada crossed
the ancient channel and time was running out for the Axis Powers.

Time waits for no one it passes you by it rolls on forever like clouds in sky.
It just goes on endlessly 1944 never to return again.


Cradled in the Banality of 1949

That lucky old sun had nothing to do but roll around in heaven all day,
I kept waiting for Johnny Ray to get here.
Woman's fashions leapt upward with Dion of Paris, hiding the goddess under wraps.

As the neurotic cruise ship burned and sank back into the harbor,
I called you 'My Darling,'
Let us get used to that as the economy climbs.

Ghost riders deck the cradle of the boy with cowboy anthems.
Bogart was making a half a million, four sheets to the wind of time's glower.
The Yankees beat the Dodgers that year, but the smiles seem a little bit forced.
.
Joan of Arc got a divorce and ran off with an Italian film director.
South Pacific was enchanted with a musical for four years running,
minimum wages up so workers could buy a Chevy, still in love with Amy.

The 45-RPM record was born that year in the lyric banality of 1949,
Japanese defected across the music and the fashions,
thousands learned to play canasta, a little bird told her that you loved her!

Margaret Whiting crooned of far-away places calling with strange-sounding names.
China and Siam, "I want to see for myself."
Mel Torme let his flaming heart fall into careless hands in Los Angeles.

Capitol Records spun as a cold spell hit the world.
Some enchanted hero sang as Miss Grill served up Iowa beef on a white platter,
white collar workers proved to be the least sexually active.

American men grew dismayed and grayed as the skin hid.
Public platitudes kept them happy, sealed in a kiss with plastic.
It was enough to drive you back into the cribs of immortal intimation, Charley.


By 1950

By 1950 there was a whole lot more babies clamoring for attention
tall buildings were going up in our cities
beneath the stars above still visible sublime
cheering starlets melted into liberal publicity
ragmops headed out to California as in some second Gold Rush

attacks from outer space mingled with communist threats from Asia
it was a whole new world rising out of nuclear ashes and soap flesh
and you are there credulous as an elm

aye, aye, aye cabelleros filled the air with magic from Downunder
I was only three and going on three thousand karmas
I saw the harbor lights from a borrowed half-Irish cradle in Oakville
terrorized
drew cursives and multiplication tables in the skirts of learned nuns

breakfast clubs hit paydirt, Patty Page sang "Boogie Woogy Santa Claus"
"Tennessee Waltz" sold three million sentiments for a dime
can you remember when
sins were original mortal and venial

it was a day like no other
adultery prettiest in the water tinged with pagan love songs
most popular sin here and everywhere else

by a heart murmur the redneck he put another nickel in the jukebox

Bing had a million Dear Hearts crooning dear hearts and gentle people
living in my hometown
reading the Good Book from Friday to Monday

that's how it goes
with picket fence and rambling rose on the Johnny Carson Show
remember that

number one for twenty-three weeks in 1950 your mother
had prematurely silvering hair and looked lovely to you and Dear Old Dad
meandering down the green lawns of Fulton Park on Sunday


I was interpellated into selfhood with lyric platitudes
the world was always coming home from mass
in my hometown that year

they will never ever let you down like my father did
his happy heart back from the war torn apart in Anzio is many
and forever broken into laughing gas

laughing alcohol like a clown in home sweet home schizophrenic
a Cancer named Bob sat who loved his family by the silvery sea of Milford
the night is like a lovely tune take care my foolish fascinated heart
he sang to Kate

sentimental journeys were surrounded on all sides by sensations of cash value
there were new fortunes to be made in a cherry coke or a smile
GI home loans to be had, degrees to be won at Quinnipiac or Yale

promissory notes with the face of Wilson were issued I thought in heaven
made popular that time by movies
oh we babies were reading less and watching more

the jet fighter saw its first combat boom in Korea
US troops reached the vast border of China
the Chinese jumped kick starting into Bloody Mary's Asia-Pacific

we competed in skimpy tennis whites at Forest Lawn
hold me close and hold me fast
never let me go into the future
the old world was crossing the Pacific to Kon Tiki on a raft

tragedy hit ordinary express trains, tombstones of Buddha fell
the war in Korea started up
it was war again war war a war we knew was moral

sister acts and brother acts multiplied into lyric nonsense
everyday words seemed to turn into love songs on the tender jukebox
we mellowed into wars cold and wars hot

right before my pea-green eyes in Connecticut snows
my old Scottish grandfather sat up reading grim Canadian papers in bed
with a starched shirt on, under the painting of a boat from Edinburgh
he wanted me to have as a sign

I had met my Waterloo, little boy

President Truman and his family were awakened from a nap
by rifles of two Puerto Rican nationalists trying to shoot their
way into the White House

enjoy yourself in that bomb shelter, Johnny
it is later than you later than you think said the nuns
the world was too busy making dough dough dough
looking for a red head or a blonde in the pink

the summer wind came rolling in from across the straits of China

moonlight and romance kissing a dollar bill
the world hid in little pink enclaves of bliss



The New Life, 1956

Waiting in the wings was Johnny Ray
a whole other world of feeling was segregated from the white mainstream
not the lush style of the disk jockey

Nat Cole pressed on and blossoms fell for blacks and whites
upon the Indian earth which was conquered into taverns and city halls
you were kissing someone else beneath the moon and True Love died

what year was it when your soul began to fall into this torture
I learned to look for Beatrice in all the wrong places
hermeneutics of screen-loves before Mary

magic moments multiplied into appliances and payola
Shaboom by the Chords was re-recorded by the Crewcuts in Canada
travesty went down gurgling with the morning milk

crossover hits unchained melodies from their race and class ghettos
until the sun-king of rock and roll arrived like an ex-truck driver
crying in the gloom of Heartbreak Hotel with a hound dog heart

teenagers became teenagers at the record store and on bandstand
a real house was given away by Dickey Do and the Don'ts
whitebuck shoes bespoke a white morality to blue suede shoes

I sat in a park dropping a coin into the wells of China
chances are in a God-dream, I was lifted off Bishop Street and rose up towards conversion
to see the face of Saint Paul warming with winter coat of Tarsus

Pat Boone covered the Flamingos before you heard them
in a nearby city named Troy when that Trojan horse
opened Danny and the Juniors popped out singing At the Hop At the Hop Hop Hop

all the cats and chicks were listening to Bob Dylan grow up in the mining
towns of northern Minnesota
"Sincerely" was sincere booming into the darkness of my Connecticut bedroom

on a Bridgeport beach you could see the lyrics of Harlem strutting
the one Japanese kid in my high school wore cranberry tennis sweaters
became Ping-Pong champion of the state practicing each night in the YMCA

No this was not the McGuire Sisters, this was the Moonglows where I lived
oh the shark babe had such teeth babe oozing life
taught me a dose of Brecht with never a trace of red in the alienated pockets of 1956

just walking in the rains
I was coming home from confession and had nothing to confess
I would pray to let that Johnny Ray song come back upon the AM radio

that strange twisted voice of the lyric
paving the way for soul
or the unchained heart would never let me be


The World According to 1959

It was a day like no other day in the suburbs
the hamburger smoke began to reach Taipei, Frankfurt, and Mars
Johnny Mathis Johnny Mathis Johnny Mathis on Columbia Records

funny, you're a stranger who's come here
come from another town
small world isn't it?

not a sign of life on the Lady Be Good that went down in 1943
just the desert wind of Africa moaning through the cockpit

may your heartaches be forgotten
may your sorrows not stay too long
may you find someone to love as much as I love you

The McGuire Sisters lived on from the early 1950s
Sarah Vaughn sang her "Broken-Hearted Melody"

I bought used jukebox records by Ivory Joe Hunter and Buddy Holly
for a dime each in a broken-down discard rack on West Main Street

funny, you're a girl who likes children
that's an important sign
small, and funny, and fine

Johnny Mathis took over certain lyrical hearts like mine
could the world be so rich in the patch of a third floor walkup
the Nelson Family had their youngest boy singing about romance too

pastel sweaters and plaid skirts were still in style
the skirts a little tighter now

the Big Bopper died mysteriously
new groups appeared over the tiny Connecticut horizon
like the Crests suavely singing, "Sixteen Candles"

the whole world was only sixteen in 1959
Americans were still kids on the block of world history
black and white mixed and crooned (but not on my block)
crossed the invisible color lines of popular music

Jerome Kern's ballad  "Smoke Gets In Your Eyes"
written for the 1933 musical, "Roberta,"
was re-released into Eternity by the Platters

"they asked me how I knew my new love was true?"
"all who love are blind"

seven astronauts were picked by NASA beneficiaries
"Robi," I was going to a red-brick schoolhouse in Waterville
where a tornado would rip the Sprague gym roof off as I shot 100 foul shots

and was interviewed for the Waterbury Republican
as an awestruck eye-witness to God's mysterious thunder
although I can't remember where I was or who I was with that day

Hula-hoops sold a million copies across the new land that year
Elvis crooned in the future as "A Fool Such As I"
which played on jukeboxes from Waimanalo to East Hibbing
hip-gyrating Americans faced, well, a crisis-- the hula hoop shortage

Sam Cooke went pagan love crooned soft as new made silk in the cold war

"She was only sixteen, she was too young to fall in love,
and I was too young to know"  

Alaska and Hawaii were welcomed in as our new states
putting two new stars on Old Glory
we ducked down in fallout shelters should a nuclear war be declared

Nat King Cole was still busy making those beautiful ballads
"You made me love you, I didn't want to do it"

pictures came back from the Russian satellite
back side of the moon seen for the first time
"And we began to realize how small our world was"
down in Rose's Cantina in El Paso

wild as the west Texas wind

Connie Francis crying in an Oakville beerjoint to my father,
"My Happiness"

but we knew from the nuns who first warned us
the Russians were ahead in the Space Race

we seemed to be behind in everything that year
we even lost the World Heavyweight Boxing Championship
to--of all things-- a Swede

"Me I want a hula hoop" Alvin and the Chipmunks sang
in dubbed Christmas songs
we had toys and a bright future we didn't care

Mack the Knife was the 59th hit of the era in 1959
grim numerologists could see the future coming out of the past
"just a jackknife has old Mack, and he keeps it pearly white"

kids like me learned the Three Penny Opera lessons
in dialectics from Bertolt Brecht via Bobby Darrin
on gangster capitalism

""lies a body just oozing life""
"five will get you ten old Mack, he's back in town"
""he disappeared after drawing out all his hard-earned cash""

""oh the line forms on the right, Babe, now that Mack, he's back in town""
that too sold like Jameson's became second best seller of 1959

I had a little plastic babyblue transistor radio Made In Japan
sat on a park bench after mass on Sunday
learned the deep plots of romance and love-death trysts
flesh and soul wedded to flesh and soul

adultery, I didn't even know what kind of sin that was
was surely mortal his silver turned to blue

so if you decide to call on me, ask for Mr. Blue . . .
I'm Mr. Blue when you say you love me,
then prove it by going out on the sly
Call me Mr. Blue

While you paint the town bright red
to turn it upside down
I'm painting it too,
But I'm painting it blue

Roby, I hear he went out west somewhere
across the huge continent to Asia  
to paint the future red white and blue


Back in 1959 When the Nikita Moon Rose Over Hicktown

How wrong we were in the great old ballads

Communist China going on ten, the Edsel aborted at birth

maybe it was just plain ugly

oh lyric specific heart appearing on Ed Sullivan Show with Lucy contemplating divorce


back in 1959 when you were twelve in the Naugatuck River Valley sit-down slime

back in 1959 when the Nikita moon rose over hicktown jukebox

spread red paint over postwar commodity world maybe spelling death to love

Santo and Johnny sleepwalked on a guitar note across Hawaiian seas to Red China


back in 1959 what a year those tiny astronauts rose high Oklahoma went dry
we hid under desk tops and cowered with the nuns Sister Alice
said I could become Senator Wilson long way from machinic binds
trope your way west with Ti Jean years later

a big Hawaiian number was coming up over the horizon like a lucky-shirt charm

instrumental lyrics spooned out lethal doses of late high-romanticism

Seventy Seven Sunset Strip combing your hair back, pabulum for the masses


hills were alive with the sound of communists rumbling into the future

with songs they have sung for a thousand ill-fated European years

nuns like the beat Sister Alice, pinching my ears, sided with Eisenhower

knocking Venus out of the number one spot, the twin monkeys were heavily sedated


Americans were orbiting into godhead into stellar space infinitude

cyborg dream- lovers crooned like kindergarten kids still

She came softly to me across tiny room like blonde on blonde, infinite heart-dust

forever and a day went the small writing-machine in the corners of the arteries



I heard what she said waiting too long for such love and it never came on like that

a collective heart was blessed with the sound of recorded music

imagine we could produce world history as a catchy new showtune in the South Pacific

making such unforgettable tunes skirts were shorter songs were getting longer


unmanned space probes flew past the moon and beyond the Godhead

Frankie Avalon had his own private stereophonic Venus

consecrating a girl from the neighborhood with all the charms of you, goddess

could place the stars in her eyes in a Philadelphia pizza parlor


can't be too great a task for you goddess-worshiper, remain true to the quest

as long as we both shall live in this cold war amplifications of time passing

I'll give her all the love I have to give for as long as we both shall live

a whole courtly love ontology become banal when day was through


in East Texas, holding his nose to sing

as on American Bandstand or in a Model Kitchen in Moscow

presidents were fighting over soapsuds and dishtowels on July 25, 1959

evening shadows fell across the land in a country and western bar


my happiness to be remembering how far I once fell from your love in the filth of Anzio

a million years went by in a fallen tear my father blessed the Atlantic waters

with the death of uncles and an abandoned grandmother

in the hills of Naples, Italy she was not talking World English just madness and bad blood sugar


poetry oh to be the daughter of a Boston lawyer

public and pubic spheres mingled coast to coast into the flute pipes of zen beat Japan

high ocean sound of mothers marching croons postwar children into love

they got some crazy little women there in Kansas City and I am going to get me one


on the corner of Twelfth Street and Vine with a bottle of Kansas City wine

we were still fighting the bloody eucharistic British for global supremacy

this time with Johnny Horton history lyrics about Old Hickory as Hero

rehashing the War of 1812 until the boys began running back to Liverpool


a man fell apart in the same club where Hank Williams played just before he died

lyric songs were not meant to hold your attention too long

smoke got in cold war eyes anyway we could see heaven in the Platters singing

worlds apart I Rimbaud do sit in that same white room and dream of happiness on earth


Crests and Sixteen Candles beaming out of the cold heroin streets in New Haven

though all who love are blind smoke gets in your bright ebony eyes

another heart has flown away I am without my love laughing friends deride

tears I cannot hide in Taipei or Seoul when true love dies it dies to new money


bankers went on laughing all the way to the African mines

a little jungle music please bring it on to fill the market vacuum

Allen Freed paved the way Sincerely

loyal teen audience grew green wishes came true on a 45-RPM record


the prettiest loveliest girl like Saint Clare, I searched for her in the milltowns

my fated lyric karma I loved her so

only sixteen my prettiest loveliest stupid heart swooning

I loved her so and went on looking for her the lyric-goddess


politics shrunk down to a football game and a prom

we could fight about anything stuck in global traffic

twenty cover versions spread into the villages in the valley

chapel bells were ringing for little Jimmy Brown


praying for guidance from above

we cowered in the air-raid shelter

number one in mid August of 1959

on this day like no other day


the fiftieth state came in with a fiftieth star in the Pacific

Elvis was elected chairman of the Arizona Memorial search committee

all I want is all you got pretty baby

grease ball in my pocket rabbit foot around my wrist


I ain't asking for much pretty baby just a big hunk of your precious love

so many big hits so many tender hearts radiant

with his head on her shoulder

showing the world that world war was over his love was true


these kids became part of the baby boom and bent the book of love into a jukebox song

each time we have a quarrel it almost breaks my untutored Emersonian heart

why must the US citizen forever be a teenager in love

taking the good with the bad this missed mash mass innocence


December 15, 1965

There were two 1965s inside 1965
silver airtight space suits dreamed on little dreamer
I turned into the godhead hungry turn

streets of fire burned in Los Angeles turn
Pratt & Whitney boomed into deadman shifts I drove
a broken-down Buick in my hometown in my hometown

draft cards smoldered from conscience turn
strawberry milk shakes made with fruit yogurt
the taste of honey rankled from another era

what a mammoth hit man what a mammoth hit man
in the streets of Babylon saw LBJ scarred blown in the wind
riots, riots turn everywhere turn took to the streets turn

I did not know turn I did not know what direction turn
crossed the landscape into Berkeley because I saw an interview on TV
could always turn cruise downtown sip cherry cokes in cranberry sweaters

couples turn scrambled in the dark for the hidden orifices turn
singers changed their first name to Indian mantras turn
10,000 people marched down Fifth Avenue turn, I saw blonde myth

I went from coffee houses in Greenwich Village to international fame
sat stooped over drinking green eyes away in Irish bar on West Main Street
the northeast plunged into darkness, turn turn, and I lived there

in Waterbury turn the message of Ecclesiastes turn went electric turn
we had sex turn we had violence turn we had Mary Poppins and the Mothers of Invention turn
enough to drive you out of sleepy Saint Michael's church

Toyota Corollas turn broke the Detroit monopoly dear heart turn
I sang along globally with the pretty lemon tree of Trinny Lopez
shadow of God's smile set across my land and all that road going west

Tony Bennet just got better and better
jeans were in, the day of the wet T-shirt tanned in summerplace
we hid the falsetto of American Innocence in a burning land

a truce came at Christmas tide
we sat down to the bargaining table with a poet, blood on the hands
too much water had run under that bridge too many rivers between

the ego and God
a rendezvous in space turn unmarked graves turn
hair got longer and bogged down in the grim realities of Vietnam

yesterday I entered into a pact with hallucinogenic
after reading Rimbaud's Illuminations
nowhere to check that motivation on the personality test in Golden Gate Park

Winston Churchill died at 91, and Nat King Cole died at 45
Barbara touched me she touched me breezy Jewish
in a juke box on Avenue A


Creating a Self From the Middle, 1966

Oz had become a psychedelic experience flower power raging in the hearts
hot summer winds rioted

London was swinging in Sinatra and Farrow sporting his and her haircuts
that strange restless summer in a tragic decade when innocence grew less innocent

tragedy came blowing in from Asia from inside the American war heart
beneath a blue umbrella sky

I lost more than my virginity to the summer wind just graduated
the operative word was excess and burn baby burn to the fishnet stockings

Doctor Zhivago still learning about adultery in tundras of Iowa
you came to me out of the long ago

high and low mingled into the tragicomic quest for revolution
breaking on through to the other side as 50 General Motors detectives investigated Nader

what a day for a daydreaming boy doing acid across the Charles River walking
out of history down the palimpsests and holograms of time scrambled into lyric eggs

a quiet kid reading Varieties of Religious Experience in backlots of Fenway Park lunch break
searching for some kind of Emersonian validation to the inborn hunger for primary experience

Governor Reagan was elected to drive the demons out of the hills to Herb Alpert trombones
tear gas began to trickle into the Milton class, and then it went up in flames in Berkeley

I was hitchhiking up and down the Massachusetts Turnpike just to see the fall splendor
a girlfriend at each end, and you in the middle with a head full of smoke and poesy

civil rights dreamed impossible dreams cities were still zoned black and white
poor and  better off and you in the muddle praising democracy in all corners

on laughing gas you could see a higher universe than come back down to the grass
being grass in the blaring cicadas of summer when life went slow nowhere

Lenny Bruce took himself apart blaring cocksucker cocksucker in Lima, Ohio
blue Spanish eyes dangling above the bar mirrors

singing Winchester Cathedral as if  heartbreak was the key to the era
eight US planes lost one day in Vietnam, I was studying third-year Latin

with a girl named Sandy
even revolution could be packaged as a sentimental Oedipal Journey

sung, signed and fashioned out of style with the Electra label
the crystal ship was being filled and emptied in the Naugatuck River factory spawn

it seemed the moment could burst apart, as if there was another side to get to
but all we did was journey right back to here, 1995 on a laptop in Taipei


The Summer Wind Came Blowing in the Window From Asia

The summer wind came blowing in the window from Asia in 1966
god speed my love the way of zen tao in cheap editions

collaged, lingered to touch my heart spirit,
my fickle friend the flower power. I lost you son to excess

time was getting longer and clothing shrinking shorter as ladies
and gentlemen sat dreaming over Doctor Zhivago in Russian steppes
the full force of time vanishing into Connecticut winter
on music boxes made unsafe at any speed in our white Corvair

I was only nineteen, true, it was the best year of my life you could never tell from this banality, oh Sandy of the telephone wires

musac played on elevators in the interpellated heart of America
what a day for a daydream boy daydreaming for a thousand years

green berets fell into and out of heaven men that year who mean
just what they say sporting silver wings upon their chest
America's best trained to live off nature's land
100 men will test today only three win the Green Beret

I stood in the draft line in Connecticut, naked and cowering
a working class son, 1-A, until I escaped to college

white house on the Waterbury Branch UConn hill
"so you want to write the Great American Novel, now do you son?"

a marine has died for those oppressed, put silver wings upon his chest a gentler world we sought for then, good triumphing over
evil fought abstractions of yellow cong, La Mancha of the gook mancha onward to glory it is I, Sancho, I Sancho Panza of the
Taco Bell, Lord of the global mansions and peasant rice patties
was worth fighting for in a Connecticut milltown for real

these customs were made for a daydreaming American void commercial bundles of joy mass made, when Ronald Reagan was nominated

Republican governor candidate from California to Herb Alpert's small world dreaming the impossible dream of being Martin Luther King

or was it Jerry Vall, this is my quest to follow that Emersonian star that honor and justice may bleed in the streets of spectacle

when I am laid me down to rest in the pastiche of another decade
which the deejays still talk of cynically as no Auntie Mame or La Mancha
God came back broke all records and the Beatles took over Shea Stadium, Lenny Bruce took himself apart and the satellite came
back to show how he looked bleeding from the moon, singer Al Martino bigger than ever blinking Spanish Eyes adios means goodbye
in all of Mexico became a hit you would have to have on the roster of somebody's immortal lyric heart but not mine scratch
and win with Sony today and Adorno's oldest teenager, Dick Clark
Rock Roll and Remember 16 years a lot of old names

like the Herald Tribune passed on Winchester Cathedral was bringing me down with a handheld whistle

you stood and watched as my baby left town you didn't even try
if only you started ringing your balls

something kind of funky pretty cool man pretty cool eight nurses in a dorm hacked to death eight US planes lost one day in Vietnam
eight souls dead, "you know there really was something bad in that summer wind of 1966" it was me like the fading shadow out on
the new horizon footsteps in an open meadow, it was only me pursuing something I'm not sure of with nets of wonder, it was me
bright elusive butterfly of love no nationally less no banally more that stupid trope the bright elusive butterfly of love

Bob Lind is not a name emblazoned in lyric heaven but butterflies had psychedelic cultural appeal and shot to the top sixty of these had crashed on
bombing missions even an H Bomb had fallen off a B52 near the coast of Spain soon located by a brave midget submarine okay

cherish that you wholesome American son you Roby
cherish your nation cherish Sandy Barkowski as much as you
cherish your drinking Irish Catholic dad cherish is the word cherish cherish the pretty love free love the world almost

'liberated' for good we thought in huge pot festivals Eddie
Fisher did not treat time kindly nor time Eddie Fisher blindly
chasing his and her happy endings come what may gets hurt in Little Italy
along the way a whole world was telling whiter lies
from the altar of Father Blanchard at Sacred Hearts Church in Waterville defending the war in Vietnam face surgery could not

change Eddie's face he dared to be different buying a Ford
it was goodbye to Hedda Hopper of the hats and the poet Montgomery Clift knew these boots were stupider plastic made for walking runaways stomping the fetish point of the heart to shop
for infinite pain like Freud and one of these days her boots are going to walk all over you, start walking chump playing where you
should not be playing, burning up karma in inflatable furniture he had bad breath ate disposable paper chairs mommas and pappas

choking on boiled ham Monday morning was not all life was cracked up to be
the son of Texas ascending to the tower of a Texas
elevator up he calm sight gunning down citizens running for cover below up there in the maddening sun of 19 and 66

Sly and the Family Stone sang summer on, beautiful beautiful man
US groundtroops rescuing time somewhere fast forward

tore out the mind into heart song and the country forgot to remember


Twelve For Kerouac

Departing Massachusetts out of the musty house
ancient eyes crawled past
          diesels on the overpass NJ turnpike south just a
boy-of-my-generation longing to become Pei-Hsu scriptures

ex-radio godhead eyes
            drifted westward cold mountain, road-drunk and sardonic
            attacking dog-armies went past bird-loving masters
drooling over spaghetti, corn bread, beer munchies, I

sank onward to Inchon with my sillier self I
            praised the Holy Ocean of Eternity spooning
            out wisdom inside the (Seoul/soul)
           seahorse's delicate imagery of glue


Broken Record

These rough-made poems that emanate like broken records

spill their tender orients of light from the pop charts

into the Hsinchu student dormitory at midnight

where the broken-heart factory churns out latest version



of ancient genres like "tragic-comedy" or "a-love-never-meant-

to-be":  superb how this history of literature repeats itself

in the sigh of the Taiwan sophomore or the courageous

adultery of the wonton cook.  Maybe, as they say,



the letter "G" gets hidden inside the name of God.

The timing is obviously wrong, but the lover chooses

yet another red rose to give to his lovely

Mommy-substitute as valentine. But she



too has been hurt by this broken record and can only mime beat refrains,

"Ouch!  There goes that history of imperial romance all over again."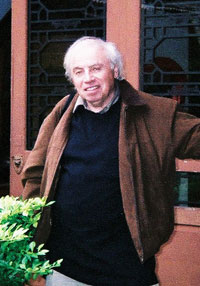 Rob Wilson is a western Connecticut native who was educated at the University of California at Berkeley, where he was founding editor of the Berkeley Poetry Review in 1974 (its 39th issue will appear in Spring 2009).   Automat: Unsettling Anglo-Global Poetics from Asia/Pacific Lines of Flight is forthcoming from the University of Hawai'i Press.  His study Be Always Converting, Be Always Converted:  An American Poetics was published this year with Harvard University Press; and a collection of cultural criticism from Asia/Pacific (co-edited with Christopher Connery) The Worlding Project:  Doing Cultural Studies in the Era of Globalization appeared with New Pacific Press/ North Atlantic Books in fall 2007.  He lives in and between Pacific coastal La Selva Beach and San Francisco, California-- writing on the edges of all this transpacific beatitude and 'busy being reborn' as Dylan and Thomas Shepard urged.  He teaches in the Department of Literature at the University of California at Santa Cruz, USA. Email:  rwilson[ât]ucsc.edu