This piece is about 2 printed pages long.
It is copyright © Harry Gilonis and Jacket magazine 2009. See our [»»] Copyright notice.
The Internet address of this page is http://jacketmagazine.com/38/jwa10-gilonis.shtml

Back to the Jonathan Williams Contents list
Jonathan Williams Feature
Harry Gilonis
from Pliny: Naturalis Historia XXVII. xvi 58
Democritus disapproved of sex;
it's just the way one human
comes from another; and,
by Hercules, the less of that
the better.

             Athletes, however,
when they are sluggish, are refreshed
thereby; and the voice, when it has
lost its lustre and gone husky,
can also be restored.

                      Sex is the cure for pains
in the groin, unsoundness of mind,
dull vision & melancholia.



(done for Corn Close, October 1987)

First published in Catgut and Blossom: Jonathan Williams In England (London: Coracle Press, 1989); thanks to the editors and publisher.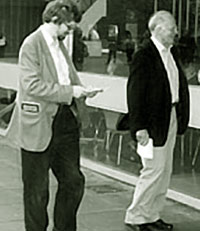 Harry Gilonis is a poet, editor, publisher, and (intermittently) a critic. His books include Reliefs (hardPressed Poetry/Pig Press); Pibroch (Morning Star); Reading Hölderlin on Orkney (Grille/Simple Vice); walk the line (Last Adana); and a collaborative renga, from far away (Oasis Books), co-written with Tony Baker. He has also published collaborations with visual artists: Axioms (Ankle Press) with David Connearn and An Envelope Interior History of Art and Forty Fungi, both with Erica van Horn (both Coracle, the latter recently reprinted). A poem i.m. Richard Caddel, and his obituary of Caddel, appeared in Jacket issue 22. He is the only living poet to be published on the lawn of London's Serpentine Gallery.
Copyright Notice:

Please respect the fact that all material in Jacket magazine is copyright © Jacket magazine and the individual authors and copyright owners 1997–2010; it is made available here without charge for personal use only, and it may not be stored, displayed, published, reproduced, or used for any other purpose.