Jonathan Williams Feature
Robert Duncan
Preface to Jonathan Williams' «Elegies and Celebrations»
The following preface by Robert Duncan for Jonathan Williams was first published in Williams' Elegies and Celebrations (Jargon 1962) and has since been out of print. It is reproduced here with the kind permission of the Jess Collins Trust and the Estate of Jonathan Williams. All material by Robert Duncan © the Jess Collins Trust.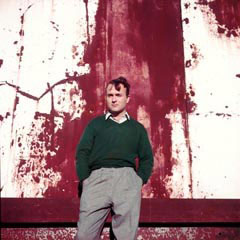 Prizefighters, winners, prizepainters, homeruns, everybody's homesick soldier boy. "Whip/whap, that's it" but "the eyes are the mirrors of the soul." "The man in our hearts stands" "stifling all repulsion." These poems come "across invisible mountains" ELEGIES & CELEBRATIONS; and declarations too then of occult allegiances.
The accomplished thing remains amazing: that this style permits busy effect, passionate utterance, cool and hot jive, right scattert insight, and nice discrimination to co-exist. Permits? demands. It is the demand that makes its path poetry. The collagist recognizes his sense of collage. I, who have searched for love thru poetry, find it here: painful as Truth is painful— "and with fact's stroke it came up swirling,"; the "completely impossible" of the poem THE PROBLEM— and wish-full too "under lightning we lay" "suited to loneliness."
Such life in writing forces us, even as it touches us most intimately, to recognize that we share only here what is unique. There are "unrelieved facts" and sensualities. The smart enthusiasm and the cantus firmus: he insists. These poems outlive me as I read. They are not comfortable.
The assertion by which the dilettante true to his delecto moves into the passion of beauty is the strength that moves us.
 — R.D. 1956