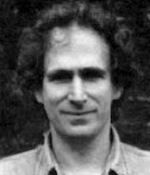 This piece is about 2 printed pages long.
It is copyright © Marjorie Welish and Jacket magazine 2009. See our [»»] Copyright notice.
The Internet address of this page is http://jacketmagazine.com/39/perelman-welish.shtml
Photo: Bob Perelman

Back to the Bob Perelman feature Contents list
Bob Perelman Feature
Marjorie Welish
For Best Results, Try…
… sound of street sweeper accompanying sight of school bus traveling down Ninth Avenue.

Woman waiting, man entering right; woman exiting left.

Brecht: men rowing, side-by-side.

Man reading on bench removes himself to next bench, looks back at bench as if to explain that the sun, not my presence, caused his move.

Side-by-side.

Or that I had wanted to compare Barrett Watten's "Three" with Brecht's "Conversations Rowing" (trans. Edwin Morgan) but had not the time to do so.

End.

Or that non-identity offers an alternative to the reciprocity with which Brecht's "Conversations Rowing" endows a type.

What is China?

If (Watten's) "Footnote to Tibet" is structuralist, "China" reserves a sociolect. Perelman's

"China's" China is orientalist even to itself, in paper stock and typeface that make albums arcades of self-presentation.

Not, non-, un-being, render states incommensurable.

China stares at a wall.

End.

American ending: Elderly woman wheeling shopping cart sits down.

She wears sunglasses, the frames of which construct 2-0-0-9.

… sits down, gets up, walks away.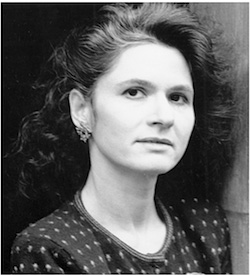 Marjorie Welish is the author of Isle of the Signatories (Coffee House Press, 2008). Her most recent work is Oaths? Questions? (Granary Books, 2009): a limited-edition constructed book with James Siena — both authors doing art and text. Of the Diagram: The Work of Marjorie Welish (Slought Foundation, 2003) is a book from a conference http://slought.org/content/11008/ that includes Bob Perelman's interview with Marjorie Welish.
Copyright Notice:

Please respect the fact that all material in Jacket magazine is copyright © Jacket magazine and the individual authors and copyright owners 1997–2010; it is made available here without charge for personal use only, and it may not be stored, displayed, published, reproduced, or used for any other purpose.