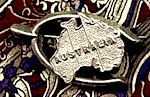 This piece is about 1 printed pages long.
It is copyright © Justin Clemens and Jacket magazine 2009. See our [»»] Copyright notice.
The Internet address of this page is http://jacketmagazine.com/39/ra-clemens-malley.shtml

Back to the Rewriting Australia feature Contents list
Rewriting Australia feature
Justin Clemens
Dürer: Innsbruck 1495
Justin Clemens, a coin, Max Harris, Ern Malley, James McAuley,
Harold Stewart et alia


I, quiet, reflecting, reversed my inanimate lids,
not knowing then that the high heavy black
spires and closed roofs had often shrunk to snows
in the waters glimpsed in the vision
of an interloper air. At the back, cowled in the real
All, now I find Dürer repeats once more,
that, slumberous, the alien dead trespass on mind
to find colourful ignorance, dream-painted waters,
men's books warned of it. As robber of the would-be,
I knew it, perceived it too, in the easy art that I have.
I am still that swan, but others had not read its I
is no one.


Justin Clemens is most recently the author of Villain (Hunter Publishing 2009). He teaches at the University of Melbourne.
Copyright Notice:

Please respect the fact that all material in Jacket magazine is copyright © Jacket magazine and the individual authors and copyright owners 1997–2010; it is made available here without charge for personal use only, and it may not be stored, displayed, published, reproduced, or used for any other purpose.