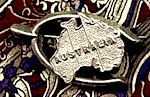 This piece is about 1 printed page long.
It is copyright © Michael Farrell and Jacket magazine 2009. See our [»»] Copyright notice.
The Internet address of this page is http://jacketmagazine.com/39/ra-farrell-snowy.shtml

Back to the Rewriting Australia feature Contents list
Rewriting Australia feature
Michael Farrell
the king

when its stitched into a pillowcase, you know they mean
         my name
         ive no other & let no colt get away,
i was asked to join the stones — but the stones played
           too rough,
       & their mothers cried hula hula akubra viva vie.
all the other hound dogs couldnt foam a toothbrush hotline im
     not
    anything else you say i am,
we cant go on without the shade of mountain ash
             they say
     only fools rush-in i cant help my skills.
& my style, the wind calls me its cousin that makes
       it alright,
     mama the real dark horse has outrun all the white;
but since my barber left me i never bare my head
             for –
        conversation & need it covered when its action stations.
slim shadys a friend of mine he wears a cactus suit,
       information says that he doesnt exist;
let him have his own dimension mines the heartbreak-hills
           im returning –
      from droving in the mud the clubs & pubs.
my ponys with me, hes got the moves &s got the shoes;
          i put my records on they stop,
they stop shuffling theyre in shock — soon theyre dancing
            like theyre –
      teddy bears in another zone beyond the snowys.
whats my name whats my mothers name — the sideys should give you
            a clue –


---
"the king" is a rewrite of the opening of Banjo Paterson's "The Man from Snowy River", using the original form as a template, adding multiple Elvis and Eminem allusions. This poem was first published in cutwater.
Michael Farrell recently edited, with Jill Jones, an anthology of Australian homosexual and lesbian poetry titled Out Of The Box (Puncher and Wattmann, 2009). His most recent collection of poems is a raiders guide (Giramondo, 2008).
Copyright Notice:

Please respect the fact that all material in Jacket magazine is copyright © Jacket magazine and the individual authors and copyright owners 1997–2010; it is made available here without charge for personal use only, and it may not be stored, displayed, published, reproduced, or used for any other purpose.