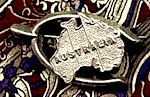 This piece is about 1 printed page long.
It is copyright © Pam Brown and Jacket magazine 2009. See our [»»] Copyright notice.
The Internet address of this page is http://jacketmagazine.com/39/ra-intro.shtml

Back to the Rewriting Australia feature Contents list
Rewriting Australia feature
Pam Brown
Rewriting Canonical Australian Poems
A Brief Introduction

'… an icon is an icon is an icon, and can be moved about the temple without too much trouble' — Michael Farrell


Five contemporary Australian poets rewrite major figures from the poetry canon:

From the early twentieth century: Andrew Barton 'Banjo' Paterson, the popular balladeer, journalist and horseman, well-known for writing 'Waltzing Matilda', whose role in Australian culture has been celebrated on the $10 note, and Bernard O'Dowd, radical socialist and parliamentary draughtsman. From the twentieth century: the invented modernist icon Ern Malley, and the female poet who, not too long after the publication of her early 'heroic' poem 'Bullocky', became a dedicated conservationist and indigenous land rights campaigner, Judith Wright.

And now, one younger poet rewrites his 'elder', Laurie Duggan, postmodern chronicler of the complexities of the Australian 'way of life' and its landscape.


Copyright Notice:

Please respect the fact that all material in Jacket magazine is copyright © Jacket magazine and the individual authors and copyright owners 1997–2010; it is made available here without charge for personal use only, and it may not be stored, displayed, published, reproduced, or used for any other purpose.