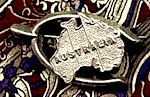 This piece is about 4 printed pages long.
It is copyright © David Prater and Jacket magazine 2009. See our [»»] Copyright notice.
The Internet address of this page is http://jacketmagazine.com/39/ra-prater.shtml

Back to the Rewriting Australia feature Contents list
Rewriting Australia feature
David Prater: Three poems
Red Dawn Ward / Oz / "The Campfires of the Lost"


'(Christopher) Brennan's contemporary Bernard O'Dowd, espoused the cause of nationalism, and attained a far greater reputation in his day; but unlike Brennan's, his work has dated badly.'
                                             — Judith Wright, A Book of Australian Verse
Red Dawn Ward
                    "Dawnward", by Bernard O'Dowd.

could this crimson burka twisted
             o'er the face of morgenland's hag
augur destructions for the peroxide
              invader (or could it be a hoax?

what kinds of prophecy shimmer like
              mirages in a mullah's cryptograms
could they be harmonic lightning
             (or just a prisoner's final prayer?

do these missiles & their vapour
               trails contain future rain or blood
& if so will it be brought in bottles
              (or will these be too extradited?

day-glo nations moonwalk on quick-
             sands of a terroristic wilderness &
wear the flag like crosses (on backs
             along their fake grunge calvaries

look here I said we have three words (i
             weave a sign "beware of sharks"
& walk down the beach at gallipoli
            into a romantic dardanelles dark

nevermind (what was it anyway?
             i pity the homeless youth & their
burka trails in the desalinated sea
            (i weave a sign "beware of dawn"


Oz
                    "Australia", by Bernard O'Dowd.

final oceanic junk channel-deepened
             by temporal bo'sun of the universe

are you some castaway floating sea
             kelp island where dawning abendland

in elysian fields of restfulness recon-
              structs her deadly breeding grounds?

or are you one of the gods sun ra
             maybe following the comet kohoutek?

are you in favour of daylight savings
              bonsai maintenance massive oil wars

or just some mosquitoes flying through
               the dredged & dying murray wetlands?

could you be an untapped source
              of poisons for travelling parasites

or are you still hiding that sneaky Y2K
             virus in your unpopped pimples?

see the ANZAC memorials to the rest
             of the earth's extinct flora & fauna

that within your vast circumference
             kick against the pricks & crash down

or else act like cruel coat hangers
             & behead those riding underneath trees

blending superstition with the brave
             recommendations of commissioners

to brand that theoretical spot in our
             atmosphere with an unequivocal X –

where innocent & pacified collaborators
            still coax those flies into your mouth


"The Campfires of the Lost"
                    "The Campfires of the Lost", by Bernard O'Dowd.

You their brushes ends.
You with a the
There the where master.
Ripples, campfires eating your
You springs waters river-green.
Clay-stained river gazing from
Tall compound best in
Like marbles It mud.
The painted have reeds.
You mallee blasting asleep
A temporary whistled quick
A harvest the a
Did earth another bluster
You their militarism.
Blasted porcelain,

                                southern, home.



David Prater is an Australian-born poet and editor currently living in The Netherlands. His first poetry collection, We Will Disappear, was published by papertiger media in 2007. Vagabond Press published his chapbook Morgenland in the same year. He is the managing editor of Cordite Poetry Review, an online journal of poetry and poetics. These poems are taken from Leaves of Glass, an as-yet unpublished collection of poems based on correspondence between Bernard O'Dowd and Walt Whitman, written with the assistance of a grant from Arts Victoria.
Copyright Notice:

Please respect the fact that all material in Jacket magazine is copyright © Jacket magazine and the individual authors and copyright owners 1997–2010; it is made available here without charge for personal use only, and it may not be stored, displayed, published, reproduced, or used for any other purpose.