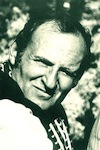 This piece is about 7 printed pages long.
It is copyright © Ruark Lewis and Nathaniel Tarn and Jacket magazine 2009. See our [»»] Copyright notice.
The Internet address of this page is http://jacketmagazine.com/39/tarn-lewis-ruark.shtml
Photo: Nathaniel Tarn, 1979. Photo Janet Rodney.
Back to the Nathaniel Tarn feature Contents list

Readers should also see the Tarn feature in Jacket 6, 1999, and
Nathaniel Tarn: «Selected Poems 1950–2000», reviewed by Brenda Hillman in Jacket 28, and
Nathaniel Tarn: «Recollections of Being», reviewed by Martin Anderson in Jacket 36
Nathaniel Tarn Feature
Ruark Lewis
TRANSCRIPTION DRAWINGS
Perhaps I should talk a bit about how I transformed Nathaniel's St Petersburg Letters. Contained in a sort of failing health in a feverish condition I lay stoically in bed.
On February 20 I scribbled a note, "I drew more Tarn poems from St Petersburg Letters today. Two long studies emerged. Eventually I was disturbed . . . "
On February 24 "Worked all afternoon using water colours on N's St.P cycle."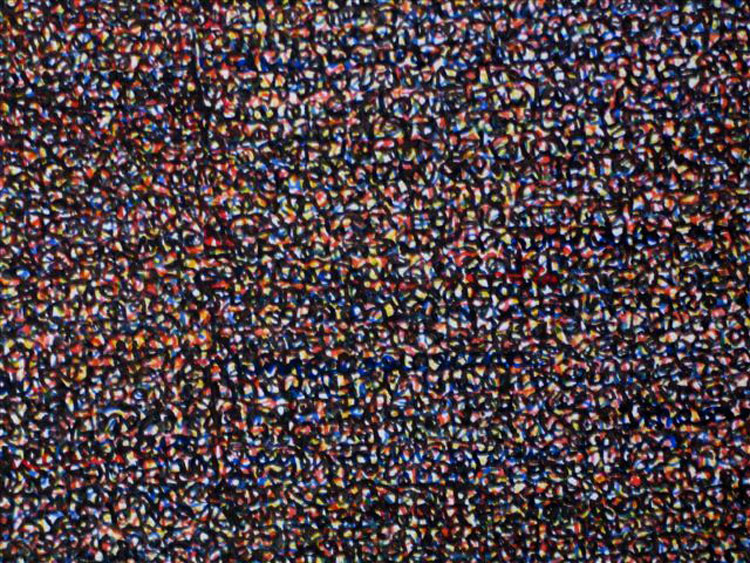 Later. I am reaching some kind of conclusion. I am swimming and started making a film. In July I begin making a small canvas with oil paint. Etching the first lines from the 3rd section of The Letters. I start by making two readings at the same time as doing Nathaniel's drawings. I am reading Finnegan's Wake backwards starting from p.666 trying to reach p.555. I intend to search these very different texts for ways through to the signals. Search for the sentinels markers or what Nathalie Sarraute refers to as tropisms.
Where are the keys to unlock these texts? I can feel the undercurrents in Tarn's text as I have been inching along copying the lines out in yellow water colour ink. I'm using an antique pen and nib. I keep searching for Nathaniel's voice along those lines. Surely the memories are his own projections mapped out as a series of beginnings in the motion of the journey. It's a space traversed. A melodic voice track through the darkness. The voice is hesitant in that desolate and vacant environment. His voice is a visitant. A sound that lapses into fantastic conversation with that of his poetic relatives in absence. It's already a condition of darkness, a vehicle skirts the literary memory as though it's going around a building. I was feeling the tremor as his voice came to embody the character.
The sing-song presence of three writers is different in every case. (Joyce, Tarn and Ashis Nandy). Joyce the linguistic gymnast has his own efforts in and out of character. Each block of actions stack up in a seemingly arbitrary way. But when I set out to memorise the lines I would inscribe and laying them out on the drawing surface I realize the translation requires me to relive the vocal quality of the winter there. To inspect the texts before the transcription is enacted means taking a higher form of forensic interest.
Transcription drawing aims to create a hypnotic state for the receiver (viewer). To approach that sort of illumination means to undertake and establish two basic conditions simultaneously. Either the writing is reformed physically as a kind of baroque palimpsestic encryption or I can allow the text to be transmitted in a more recognizable and open manner.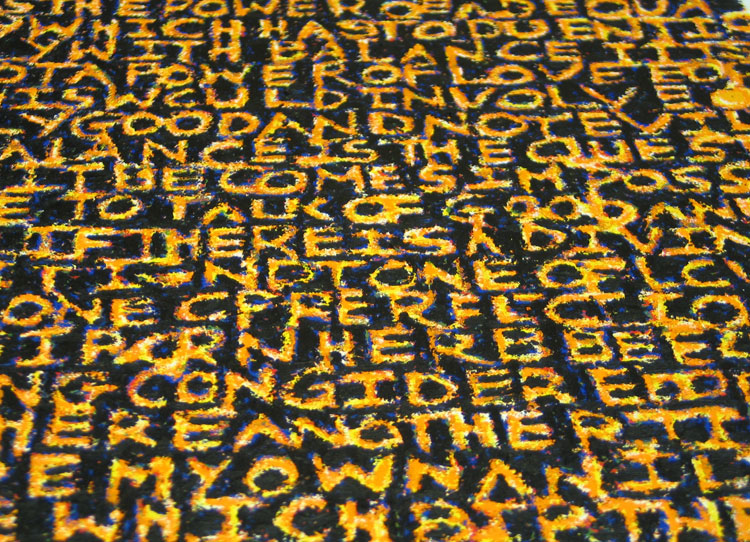 Tarn's writing was immediately recognizable because of its melodic manners that I called his walking voice. Maybe Tarn gathers up the lines and their internal zones in his peripatetic manner. His readings come through a kind of dance-like swagger. Is the metronome of the singer. I could see it in the way his tall physical frame keeps accounts with rhythms slightly swaying like a tree. He exchanges with you as an individual — he speaks to you as the tangible other which is an attractive form of address. So I see that the energy of his voice is projecting outside the artifice of a more common craft of language.
It doesn't address the reader literally as the 'letter writer' might. Like music he knows the degree of abstract tone required for that exchange as poetry. It's this voice (the internal discourse of the poet) in tone, pitch, timing and space emitted as more pure un-crafted brain voice that's like a pulse. It cannot be replicated but it can be absorbed and copied.
The transmission in the Joyce for instance has to do with a given scale only being arrived at in the way that architects his intention. To me that's what differentiates transmissions from the more regular craft of poetry. The art of language operates as unique code of colour shape time and tone. The senses organized are intuitively arranged appearing automatically at an alpha level. That the writer instinctually crafts the controls at an euphemistic social level in the text (it's the degree of artifice that places those familiar sounds and other social obligations) along it's vertical axis. It's the tonal arrangements that I feel in the spaces in-between the writings. Perhaps these euphemistic notes along this vertical axis draw a form in the pitch of their melodic passages and flow into these subsequent bursts of communicative transmission. Joyce uses a cyclical strategy tending to re-inscribe the same motif over again numerous times. He's never urgent to form an obvious progressive link. His characters set in that slowed time exist more as iconographic blocks of action. Joyce is keen to reinforce the nature of his characters — why they are so, so why they say so or say so why or they say why, so!
But here the voice intends to support an action whereas Tarn is more in the nature of the developmental practice. The developmental is disguised because Tarn's writings appears much more tonally or musically based than conventional crafted writing. Joyce works almost at every turn to achieve sound as the primary vehicle to the point of favoring that over normal progressive or development actions in writing.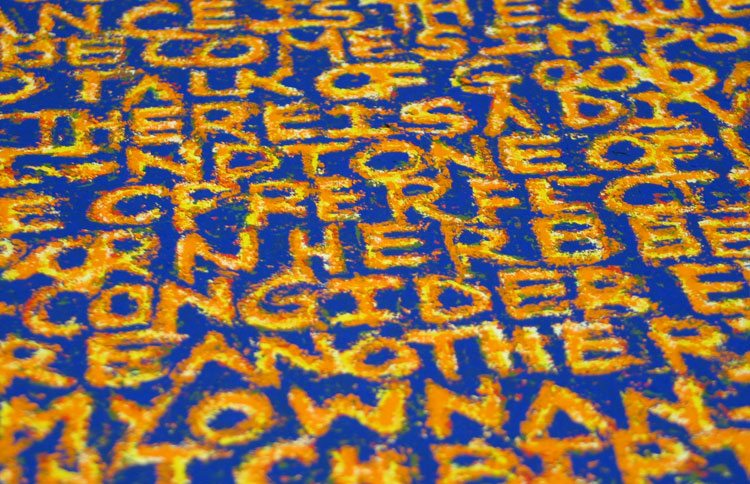 Given all of that, my drawings for Nathaniel celebrate his 80th birthday. They emerged out of darkness during an illness at the beginning of this year. Such an interesting experience that was, as I attempted to link across these three writers at the same time. That was the correspondence I set up here. I kind of wanted a conceptual navigation tool designed to set texts against each other. In this process I wanted to experiment by making another sort of transcription that would be a textual correspondence of sorts.
One of the works came from the Indian psychologist and post-colonial theorist Ashis Nandy. I looked more specifically at the poetic phrasings taken from his book The Intimate Enemy. I extracted a series of tropic forms subjectively lifted from the St Petersburg Letters and laid these beside Nandy's text.
In this quotational zone I formed two lists of 26 textual fragments. Then I aligned these 52 elements with a further list set of aphoristic phrases that I had devised by chance.
My orbit was the puzzling events of the world that surrounded me as I lay there in bed not quite recovering from the anxiety of illness. The process that these three sources of writing underwent produced the convergence I called –


Banalities for the Modern World

1. It happened as a sentiment on the cross
2. Gently illuminates the crudeness of 2001
3. Getting his head around it never seems to stop
4. Delay rises and the rest is history
5. In sadness a-plenty
6. He was not prepared to listen
7. The sound of pastoral work
8. Showing off the pre-modern and the good
9. Obtaining Roman culture
10. One historically inspired act
11. And very long poems are made as cures
12. When the costume conceals a rejection of ideas
13. And thinking there is no more time
14. Introducing your spirit to the world
15. I wear garments made in modern times
16. Where children are violent and disloyal
17. The rules they learn to construct their power
18. In part is a response to joy
19. It flattened out my will
20. In fact in a wall of steel
21. Enough to get on in adulthood
22. A basalt plug for Germany
23. Taking heart I write to you
24. My head as central plank
25a. He stacked back his mount
25b. Tolerance is a theory of backwardness
26. After dark I leave
20.1.2008

Copyright Notice:

Please respect the fact that all material in Jacket magazine is copyright © Jacket magazine and the individual authors and copyright owners 1997–2010; it is made available here without charge for personal use only, and it may not be stored, displayed, published, reproduced, or used for any other purpose.