Jacket 8 — July 1999 — Contents page
Jaime Saenz — Simon Perchik

This is Jacket 8, ahead of the eight-ball again.
Below, a glimpse of our staff, busy gathering material:
...from a makeshift hut in the Australian Outback, researcher Dorothy Nudgebundle places a long-distance call to a certain number in Brooklyn...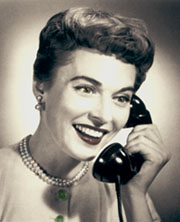 Hello... Is that you, Mister Perchik? No?... Who is this? Well, can you get Mister Perchik? Mr Baratier would like to interview him, for Jacket magazine.
..........
No, I said Jacket.
Jacket magazine, from Sydney, Australia.
..........
Yes, I'll hold.
..........
(Oh, this is so exciting!)
Interviews:
Simon Perchik interviewed by David Baratier
Simon Perchik: eight poems
Pagan Kennedy interviewed by Noel King


Great Moments In Literature No. 8:
Poems:
Katherine Lederer
David Lehman
Simon Perchik
David Prater
Rodney Pybus
Gerald Schwartz
Andrea Sherwood
Guy Shahar
Chris Wallace-Crabbe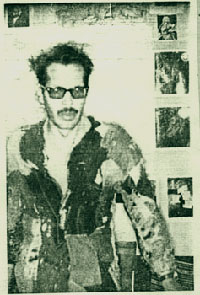 Bolivian poet Jaime Saenz (1921–1986) dressed in a beggar's jacket.
Jaime Saenz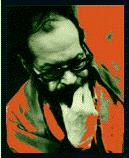 Jaime Saenz
Five poems

Immanent Visitor — excerpts, translated by Kent Johnson and Forrest Gander

Saenz is Bolivia's leading writer of the 20th century. Prolific as poet, novelist, and non-fiction writer, his baroque, propulsive syntax and dedication to themes of death, alcoholism, and otherness make his poetry among the most idiosyncratic in the Spanish-speaking world.


Report:
The 1999 Cambridge Conference of Contemporary Poetry