Jacket 14 — July 2001 — Contents page
France  — Perloff on Wittgenstein, etc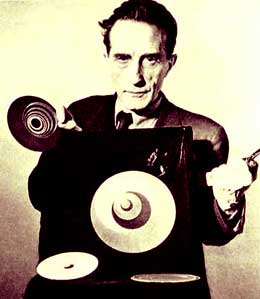 Marcel Duchamp, with rotoreliefs, a still from Hans Richter's film Dreams That Money Can Buy, 1947. Photo Arnold Eagle.
Charles Bernstein: Poetry and/or the Sacred
Graham Foust: Wallace Stevens's Manuscript: As If in The Dump
Marjorie Perloff on Wittgenstein and Duchamp (Duchamp photo, right)
Lyn Hejinian: Continuing Against Closure
Susan M. Schultz on Charles Bernstein and Fashion
Brian Kim Stefans: Veronica Forrest-Thomson and High Artifice

Feature: France
Edited by Tracy Ryan
Poems:
Gig Ryan
Michael Scharf
Joanna Smith Rakoff
Office for Soft Architecture
Candice Ward
McKenzie Wark
Mark Weiss
Marjorie Welish
Susan Wheeler


Carla Harryman
Prose:
Carla Harryman: From Gardener of Stars — a novel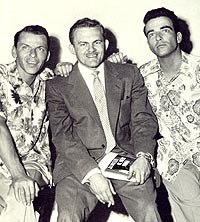 Frank Sinatra, James Jones, Montgomery Clift, together in Hawai'i for the 1953 shooting of the movie of Jones's novel From Here to Eternity
Reviews:
Juliana Spahr reviews Rob Wilson, Reimagining the American Pacific
Maria Damon reviews Joseph Lease, Human Rights
Lucy Sheerman reviews Jennifer Moxley, Grace Lake and John Forbes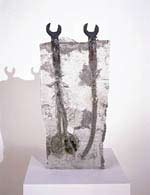 Poetry and Sculpture
Robert Creeley: Scholar's Rocks: with sculpture by Jim Dine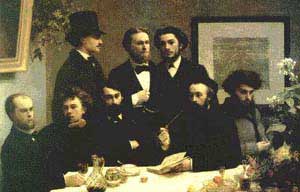 Illustration, left: detail from Le Coin de la Table (sometimes titled 'Un coin de la table'), 1872, by Henri Fantin-Latour (1836–1904). Verlaine and Rimbaud are seated front left.
      Other famous poets of the time who had been asked to sit were so angry when they found that Rimbaud had been asked to join them that they refused to take part.
     Even the kind and gentle Albert Mérat (as Starkie calls him) declined, saying that he did not wish to go down to posterity in the company with that young hooligan Arthur Rimbaud. The vase of flowers on the right substituted for him; nonentities took the places of others — standing: E. Bonnier, Émile Blémont, Jean Aicard — sitting: Verlaine, Rimbaud, Léon Valade, Ernest d'Hervilly, Camille Pelletan. You can see the original in the Musée d'Orsay in Paris, where the label for the picture identifies Arthur Rimbaud and Paul Verlaine by their surnames only, as I have done here; the others are given both their first and second names in order to identify them to an uncaring posterity. Moral: don't be snippy!