[»»] Christopher Kelen: Introduction
[»»] Peter Riley: Quotation: 'It Don't Mean a Thing'
[»»] Tony Barnstone: The Cannibal at Work: Five Discourses on Translation, Transformation, Imitation, and Transmutation
[»»] Gary Blankenship: After Wang Wei
[»»] Forrest Gander: The Strange Case of Thomas Traherne
[»»] Kent Johnson: Imitation, Traduction, Fiction, Response
[»»] Oana Avasilichioaei and Erín Moure: C's Garden
[»»] chus pato, andrés ajens et al.: correspondencias (lalín, galicia – santiago, chile; iowa city/buenos aires, la paz, ciudad juárez/los angeles
[»»] Christopher Kelen: conversation with Tang Poets: some notes on the practice

The Holiday Album: Greeting Card poems for All Occasions Edited by Elaine Equi, with eight collages by Kevin Riordan
[»»] Elaine Equi: Best Wishes (Introduction)
[»»] Elaine Equi: Happy New Year
[»»] David Lehman: Time Frame
[»»] Wayne Koestenbaum: Short Subjects

[»»] Rae Armantrout: Address
[»»] Nick Piombino: Valentine's Day
 — Valentine's Day — Feb. 14th
[»»] Kim Lyons: Red Couplets
 — Paper Lantern Festival (Chinese) — the 15th day of the first lunar month
[»»] David Shapiro: Colorful Hands
 — Holi: The Festival of Colors (Indian) — first weekend in March
[»»] Tom Clark: Equinox
 — March 21/22
[»»] Vincent Katz: Back From The Dead
 — The Veneralia (Roman) — April 1st
[»»] Eileen Tabios: Eggs: Pulp Fiction for Easter
[»»] Jeanne Marie Beaumont: Fête of the Little Boats
 — (French) — April 6th
[»»] Martine Bellen: On John Ashbery Day — A Cento
 — April 7th
[»»] Cathy McArthur: At the Wildlife Center
 — Bird Day — May 4th
[»»] Jerome Sala: Mother's Day
[»»] Jeanne Marie Beaumont: Flower & Camera
 — Flower & Camera Day — June 29th
[»»] Patricia Spears Jones: The Perfect Lipstick
 — July 4th

[»»] Chris Martin: Independence Day
[»»] Mark Lamoureux: Bride of Frankenstein's Birthday
 — July 9th
[»»] Stacy Szymaszek: Hammock Day
 — July 22nd
[»»] Erica Kaufman: admit you're happy day
 — Aug. 8th
[»»] Erica Kaufman: elvis week
 — Aug. 8-16th
[»»] Fanny Howe: Our Lady of Knock, August 21, 1879
[»»] Joanna Fuhrman: At the Evil Boss Convention  — Labor Day
[»»] Jerome Sala: Anniversary
[»»] Gregory Crosby: Columbo Day
 — Oct. 12th
[»»] Connie Deanovich: Happy Hamlet Day
 — Oct 15th
[»»] Bruce Covey: Definitions
 — Dictionary Day–Oct. 16th
[»»] Amy Gerstler: All Saints' Day
 — Nov. 1st
[»»] Joe Brainard: Thanksgiving
[»»] David Trinidad: Doll Memorial Service
 — Doll Memorial Day — second Saturday in December
[»»] David Shapiro: After Ryokan
 — Winter Solstice — Dec. 21st
[»»] Ron Padgett: Season's Greetings

[»»] Ryan Stechler: Pirate's Christmas Carol
 — Christmas — Dec. 25th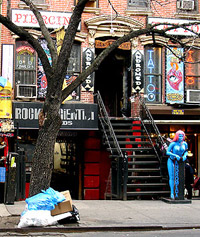 Q: What are these weird little numbers, like the one just to the right?


A: With this issue, we began to provide paragraph numbers in some long articles so that scholars and reviewers could refer to a specific section of a document when they wished to give an accurate citation. Around 2009 we began to call them "Section" numbers, which seemed a little more accurate. With an internet publication, scholars can't refer to a page number, which is what they usually do with books. Page numbers as such do not really exist in HTML files like this one. Please see our style guide for a long explanation of that conundrum. These numbers are not hyperlinks, and they don't "do" anything. The ones on this page are just samples.
What are these weird little numbers, like the one just to the right? [answer]
Articles
[»»] Anthony Stephens: Cutting Poets to Size — Heidegger, Hölderlin, Rilke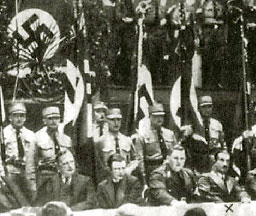 [»»] Gilbert Adair: "Child-Emporererer (vacncy)": Apprehending U.S. Empire through Robert Fitterman's «Metropolis»
[»»] Andrea Brady: The Other Poet: John Wieners, Frank O'Hara, Charles Olson
[»»] Stephen Fredman: Edward Dorn
[»»] Steve Halle: Against Lightning Flashes: Inspiration in Kristin Prevallet's «Scratch Sides: Poetry, Documentation, and Image-Text Projects», by Kristin Prevallet
[»»] Douglas Messerli: What is to be Done?
[»»] Clément Oudart: Genreading and Underwriting: A Few Soundings and Probes into Duncan's «Ground Work»
[»»] David Rosenberg: The Lost Poets of the Wild: The Influence of the First Writing Poets in Sumer

Interviews
[»»] Nicomedes Suárez-Araúz: In Search of the Night: on translating Jaime Saenz: an Interview with his translators, Kent Johnson and Forrest Gander
[»»] Wayne Koestenbaum in conversation with Tony Leuzzi, 22 October 2004, Le Gamin Coffee Shop, Chelsea, New York
[»»] Deborah Meadows in conversation with Romina Freschi, Buenos Aires, Argentina, 2006
Feature:
Pressure to Experiment
[»»] Introduction (Bloomfield et al.)
[»»] Joan Retallack: What is Experimental Poetry & Why Do We Need It?
[»»] Jena Osman: Is Poetry the News?: The Poethics of the Found Text
[»»] Harriet Tarlo: Radical Landscapes: experiment and environment in contemporary poetry
[»»] Caroline Bergvall: The Franker Tale (Deus Hic, 2)
[»»] Caroline Bergvall: Short aside to 'The Franker Tale'.
[»»] Vincent Broqua: Pressures of Never-at-home
[»»] Nikolai Duffy: The Poetics of Emergency
[»»] Josh Robinson: 'Innocence and incapability impose': Towards an Ethic of Experimentation
[»»] Luke Harley: Music as prod and precedent: Nathaniel Mackey's niggling at the limits of language
Reviews

[»»] Raewyn Alexander: «Red the Fiend» by Gilbert Sorrentino
[»»] Raewyn Alexander: «Sundays on the Phone», by Mark Rudman
[»»] Raewyn Alexander: «Rain» by Jon Woodward
[»»] James Belflower: «Harrow», by Elizabeth Robinson
[»»] Marcelo Coelho: «Rapid Departures» by Vincent Katz, illustrations by Mario Cafiero
[»»] Ian Davidson: «Grave of Light: New and Selected Poems 1970–2005», by Alice Notley
[»»] Marcella Durand: «secure portable space», by Redell Olsen
[»»] Clive Faust: «Language Is» by John Phillips
[»»] Tom Goff: «Tap-Root: Poems» by Indigo Moor
[»»] Michael Gottlieb: «The Anger Scale» by Katie Degentesh
[»»] David Hart: Peter Redgrove: eight books
[»»] Andrew Mossin: «Blue Studios: Poetry and Its Cultural Work», by Rachel Blau DuPlessis
[»»] Linda Russo: «Terminal Humming» by K. Lorraine Graham
[»»] Linda Russo: «Crop» by Yedda Morrison
[»»] Linda Russo: «Chantry»  by Elizabeth Treadwell
[»»] Standard Schaefer: «Broken World», by Joseph Lease
James Sherry: «The Grand Piano» Project:
…an ongoing experiment in collective autobiography by ten writers identified with Language poetry in San Francisco. It takes its name from a coffeehouse at 1607 Haight Street, where from 1976–79 the authors took part in a reading and performance series. The writing project, begun in 1998, was undertaken as an online collaboration, first via an interactive web site and later through a listserv.
[»»] «The Grand Piano» Part 1 reviewed
[»»] «The Grand Piano» Part 2 reviewed
[»»] «The Grand Piano» Part 3 reviewed in Jacket 34
[»»] Alan Sondheim: «The Flowers of Evil», by Charles Baudelaire, translated by Keith Waldrop, Wesleyan University Press, 2006
[»»] Jason Stumpf: «Necessary Stranger» by Graham Foust
[»»] Donald Wellman: «Figured Image» by Anne-Marie Albiach, trans. Keith Waldrop
Poems
[»»] Iain Britton: Lemurs and Missing Links in Loops
[»»] Bruce Covey: Two poems: 'Still'; 'Good & Plenty'
[»»] Romina Freschi: Initials (2004/05)
[»»] Michael Kelleher: Number Crunch
[»»] Ronald Koertge: Three Haibun
[»»] Kristin Prevallet: Tales of Caw
[»»] Robert Sheppard: Sonnets from «September 12»